Back to School Activities for Kindergarten, First Grade, and Second Grade Students + Bonus 15 Writing Prompts to Start the School Year — August has arrived, which means that it's time to start preparing for the back-to-school season. As you buy the new decorations for your classroom and create the themes for this year's curriculum, you also need to be planning out your activities for those first few days of school.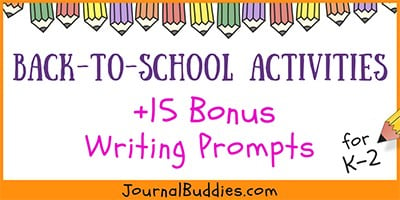 It's time to start preparing for the best school year yet!
Going back to school is both an exciting and an anxious time for young students in kindergarten through second grade, so it's always good to have fun introductory activities scheduled that will help students feel welcome and comfortable in the classroom.
Back-to-School Activities for Kindergarten Students
Kindergartners are coming to school for the very first time, so your back-to-school activities should be focused on welcoming students, getting to know them, and assessing their current needs. A few activities you should consider include:
All About Me — This can be their very first homework assignment. Ask them to take home a list of basic questions about themselves and work with a parent to fill it out. It helps you get to know all of your students on a personal level. TIP: There are loads of free printables available online. Here is a free kindergarten worksheet we love.
My Shape Book — Have the students create a book where each page is a different shape. Ask them to draw the respective shapes to assess their understanding of geometry.
Back-to-School Activities for 1st Grade Students
First-grade students understand what is expected of them in a classroom setting, but they will now be beginning school in a more structured environment. Some activities to plan for the first few days include:
Classroom Scavenger Hunt — Set up a scavenger hunt throughout the classroom that will help students discover the most important and useful parts of their new room. It's a fun way to introduce them to their new setting.
Name Plates — Ask the students to write their names on a nameplate and decorate it themselves. This will help them feel comfortable in their own space in the classroom.
Back-to-School Activities for 2nd Grade Students
Second-grade students know what it means to go back to school and get back to work. Here are a few activities you could consider:
Behavior Books — Read students a few stories that model what type of behavior will be expected of them in different school settings, such as within the classroom or at the playground.
Self Portraits — Let the students draw or paint a picture of themselves. This is a fun and relaxing way for students to get creative while introducing themselves to their fellow classmates.
15 Writing Prompts for the Back-to-School Season
Write about your favorite memory from the summer.
Did you visit someplace new this summer? Write about the adventures that you enjoyed while you were off of school.
Write about one thing you feel that you learned over the summer. Was it a different learning experience than you typically experience in a classroom setting?
List three goals for this school year. Why did you choose those goals?
Write about what you expect this school year to be like. What do you think will be challenging? How will you overcome those challenges?
What is your favorite thing to learn about?

Introduce yourself to your fellow classmates. Write a journal entry that is all about you, the things you like, and the types of things that you do.
In August we celebrate Friendship Day. Who is your best friend? Why are you both such good friends?
The National Park Service was created in August of 1916. Have you ever visited a National Park? Describe the park that you visited. If you haven't been to National Park, which one would you like to go to?
Write about what you packed in your backpack for the first day of school. Why did you choose those items?
Did you read any good books over the summer? Describe your favorite book that you read.
Write about a new rule that you want to create for your classroom this year. Why did you choose this rule?
What is the one thing you are most excited about for the upcoming school year?
Write about the feelings that you had the morning of the first day of school. Have your feelings changed since arriving at school?
Describe the qualities that you believe make a great teacher. Explain why you chose those qualities.
Until next time, write on…
If you enjoyed these Back to School Activities (K-2) & Bonus Writing Prompts, please share them on Facebook, Twitter, and/or Pinterest.
I appreciate it!
Sincerely,
Jill
journalbuddies.com
creator and curator