Expressive Writing Tips and Prompts for Young Writers — Expressive writing is a specific technique that can provide people with a coping mechanism for dealing with a traumatic event or experience and the negative emotions that may result from it.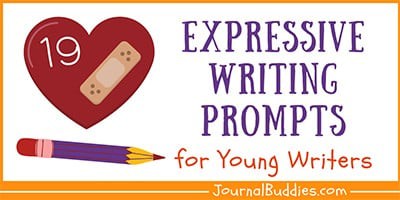 Why Is Expressive Writing Good
This form of writing is good for many reasons, but consider this:
Researchers have found that people who practice expressive writing — that is, writing to help make sense of your thoughts and emotions — can experience mental and emotional benefits, including a reduction in stress, anxiety and depression and greater clarity and focus.
Another wonderful feature of this form of writing is that it may be easily used by anyone.
Additional potential benefits of expressive writing may include:
Reduce negative feelings such as worry
Encourage healthy acceptance and lessen the symptoms of depression
Improved mental health and mood overall
Improve the immune system and, in turn, perhaps experiencing fewer illnesses
Facilitate the creation of a personalized plan for moving forward from the incident, trauma, or event.
Now those are some incredible benefits and some amazing positive psychology on that list. And all from writing. Now that's powerful.
Writing Expressively to Support Cognitive Processes
This form of writing is not about superficial topics. Rather, it supports gaining awareness, knowledge, and understanding about one's thoughts and emotions. Plus, it gets them out on paper, which is super-powerful and insightful.
Further, it can help the writer address any important emotional issue that exists. In this regard, writing expressively is a simple and effective tool especially for depressive symptoms such as those listed below.
Anxiety, apathy, general discontent, guilt, hopelessness, loss of interest or pleasure in activities, mood swings, or sadness
Agitation, excessive crying, irritability, restlessness, or social isolation
Sleep Issues such as: early awakening, excess sleepiness, insomnia, or restless sleep.
Also common: poor appetite or repeatedly going over thoughts
For added emotional support and benefits, writing expressively for consecutive days about one's state of being is suggested.
Deepest Thoughts and Emotions Matter In Expressive Writing
People of all ages are impacted by both positive and negative life experiences in big ways. Our expressive writing prompts can provide them with an opportunity to consider their deep thoughts related to their life experiences.
Furthermore, it is an especially effective and free tool anyone can use when dealing with the traumatic experience of their lives.
Counselors, teachers, parents, relatives, or caregivers of any sort may find that expressive and therapeutic writing is a useful tool for helping children develop into healthy, productive adults.
It's worth noting, once again, that expressive writing may help the writer uncover the deep thoughts and emotions that are related to an event and can teach them how to sort through those feelings. This is one of the top benefits of this writing form, in our view.
Now, you can…
Encourage Young People to Use This Tool (and to forget about punctuation, grammar, and word count when using it!)
Best of all…
This style of writing can be incorporated into the classroom setting across every grade level, but it also can be used in homeschooling or a home environment to explore a stressful event, emotional experiences, and your deepest emotions.
As we said earlier, expressive writing can help (young) writers learn how to sort out the often difficult feelings that are associated with a painful experience or particular trauma.
You see, people of all ages have found that expressive writing can be very helpful to help them gain understanding, healing, and wellness. This type of writing may be particularly beneficial for young writers as it can help them resolve a trauma early in life. And, that is a wonderful thing indeed.
Given the fact that expressive writing is used by many people in different stages of life, it's important for teachers and parents to use prompts designed specifically for young writers.
You can use the following writing ideas and prompts to begin introducing expressive writing to your younger writers.
19 Expressive Writing Prompts & Topics for Students
Use the ideas as journal prompts or writing topics. They are excellent for self-reflection and help support the healthy habit of daily writing. Oh… I'm sure you will enjoy the expressive writing therapy value as well as the positive effects you'll experience from the simple act of writing with these ideas. Now get to it and enjoy!
If you could describe today with one word, what word would you choose? Why is that your word for today?
The 2020 pandemic changed everyone's lives very quickly. How did it change your life? How does that make you feel?
What is the hardest part about having to stay home from school and away from your friends? What do you like about being with your family more often?
Think about the day you had yesterday. Was it a good day or a challenging one? How can you make today a better day than yesterday?
Consider the most challenging event of your life. What happened? How did you work through that time?
Is there anything that is worrying you today? Write about what makes you feel nervous or anxious. Think about when you feel more worried, and why you might feel that way during that time.
When there is a lot on your mind, sometimes the best thing you can do is write about it. Spend the next five minutes writing exactly what comes to your mind. Don't be afraid to let your sentences jump from topic to topic. This is a good way to get your feelings down on paper and clear your mind.
Write about when and where you feel most at peace. What does it feel like to be in that space? How can you find more peaceful moments throughout each day?
What is your favorite memory? Why is that your favorite memory? How did you feel when that moment in time took place?
Think about your most recent confrontation with a trusted friend, family member, or teacher. Why did that confrontation occur? How did you feel before, during, and after? How can you work to improve your relationship in the future?

Have you experienced a defining moment in your life? What incident took place that changed the course of your life? How did you feel in the immediate aftermath of that moment? How do you feel about that moment today?
What are your current goals? How are you working to achieve those goals? How do you feel about your progress?
What is something that you have always wanted to learn? Whether it's a new language or a new type of art, write about how you can learn that new thing.
Describe your role model. Why do you aspire to be like that person? How does that person make you feel about yourself?
Think about the fact that you might be someone else's role model. How do you set a good example for those around you? How could you be a better role model?
If you could spend your day doing anything you wanted, what would you choose to do? How would it make you feel to spend your day this way?
When you are feeling sad, sometimes the best thing you can do is try to take care of yourself. How can you help make yourself feel better when you are down?
What is one thing about you that most people do not know? Why do you keep this part of yourself a secret?
Write a letter to your teacher or parent describing how you feel today. Explain, as best you can, why you feel this way. Offer them a few tips for how they might be able to help you.
A Few Final Thoughts…
Expressive writing can be a valuable tool during challenging times. By helping children learn how to understand their own emotions and giving them a safe space to express them, you are allowing them to develop into healthy, well-rounded adults who better understand themselves.
In times of adversity, one of the best things we can do is encourage our children to keep on writing!
Resources of Interest
If you enjoyed these Expressive Writing Tips and Prompts for Young Writers
please share them on Facebook, Twitter, and/or Pinterest.
I appreciate it!
Sincerely,
Jill
journalbuddies.com
creator and curator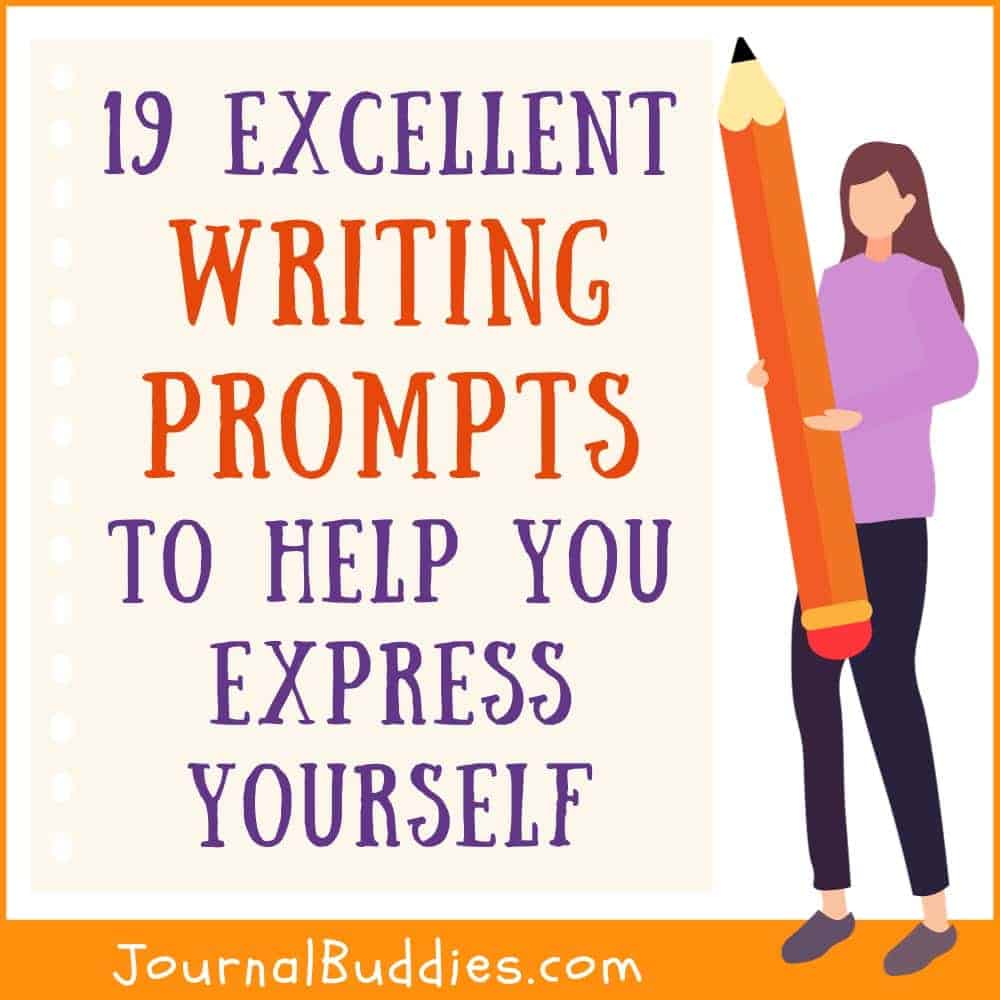 Further Resources and a Few Questions About Writing Expressively
Physical symptoms of trauma:

"Trauma often manifests physically as well as emotionally. Some common physical signs of trauma include paleness, lethargy, fatigue, poor concentration and a racing heartbeat. The victim may have anxiety or panic attacks and be unable to cope in certain circumstances. The physical symptoms of trauma can be as real and alarming as those of physical injury or illness, and care should be taken to manage stress levels after a traumatic event." (Source)

Participants feedback about expressive writing. Exploring student experiences with this form of writing.
What are some examples of expressive writing? This form of writing may include:

Diaries and journals.
Autobiographies or memoirs.
Highly personalalized writings and observations.
Personal values and beliefs.
Personal songs and poems.
Opinion or thought pieces.

Expressive writing. A tool to help health workers. Research project on the benefits of expressive writing