53 Spring Writing Prompts + 6 Bonus Spring Art Ideas for Teachers— Spring is in the air and students are getting excited for summer vacation, warm weather, and outdoor fun. You can encourage their excitement with fun journal prompts and journal topics that allow them to daydream about springtime even while they're in school.
Journaling allows students to explore new worlds and to express their creativity. With journal prompts specifically designed for the year's first season, they'll be ready to begin the kind of new adventure that only springtime can bring.
Spring is a time for rebirth and fresh starts and is a time of new beginnings. Renew your students' interest in journal prompts with these great journal topics and with fun spring ideas listed below that allow them to think outside the classroom.
With these journal prompts about spring, students will enjoy writing about their favorite spring activities, the best way to spend a spring day, and all of the things that remind them of the season. They'll warm up right away to these new prompts that allow them to explore favorite spring traditions and their best spring memories.
53 Spring Writing Prompts
Spring is just one of the great journal topics we have to offer you that is perfect for Elementary and Middle School Kids, yet great for adults too! 🙂
I know It's spring when…
People think about spring as a time for new beginnings – what is something you would like to start doing this spring?
Why does spring symbolize birth?
Describe something you experience with each of your senses in spring
What changes could you make beginning in spring?
Fresh starts in spring are a great time to…
If you could plant a garden of anything, what would be in it?
When everything turns green, I think about…
Why do you think baseball is an American tradition?
Do you ever celebrate May Day? How could you create a May Day tradition?
The prettiest kinds of flowers are…
The best game to play outside in the spring
Do you ever feel happier during the springtime because of the sun?
If I had to describe spring in one word, it would be __________
My favorite place to go in the springtime is…
Have you ever noticed that "April showers bring May flowers"?
What would it be like if summer vacation was in spring instead?
My favorite season of the year is…
What is your favorite memory from spring break?
Memorial Day is an important holiday because…

The best thing to do during spring is…
Do you ever miss winter once spring starts?
Where is the best spot to hide Easter eggs?
When I see baby animals, I think of…
Something fun to do on April fool's day
What if the weather was like spring all year long?
What are you most excited to see bloom in the spring?
A sunny day makes me feel…
What's your favorite thing to do in the rain?
What are you planning to do this summer?
What does spring fever mean?
Do you like the rain in spring?
If you could replace spring with any other season, would you?
Spring is a time for…
What is the best Easter candy?
Why do people celebrate St. Patrick's day?
If you were drawing a picture of spring, what would it look like?
Write a story about an animal born in spring
Do you jump in puddles when you see them?
Going to the park for the first time in the spring
What's your favorite spring fruit or vegetable?
When do you start swimming in the spring?
What springtime means to me
Do you feel love in the spring air?
Why is green such an important spring color?
Spring brings lots of excitement, but is it too hard to wait for summer?
The best spring holiday
My favorite thing about warm weather is…
What do you feel like when it snows in the springtime?
For mother's day, I will…
Spring cleaning is a time to get rid of old things – what could you spring clean in your room?
What will you do this year for spring break?
Describe your perfect spring day
I hope you enjoyed these spring writing prompts
More Writing Resources
There are many more journaling prompts and journal topics on this site, and more are added every week, so be sure to visit us often.
Until next time, happy springtime! and write on…
If you enjoyed these Spring Writing Prompts for Kids,
please share them on Facebook, Twitter, and/or Pinterest.
I appreciate it!
Sincerely,
Jill
journalbuddies.com
creator and curator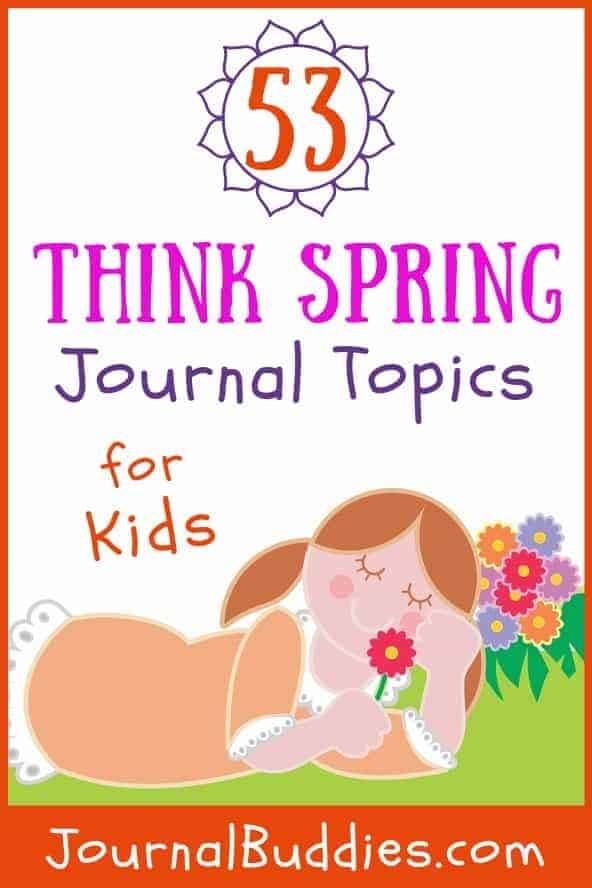 Bonus! Spring Art Ideas for Teachers
In addition to our Spring Writing Prompts, We Have Six Spring Art Ideas for Teachers— As color begins to creep back into the landscape again during springtime, you can incorporate these same beautiful hues into your elementary classroom.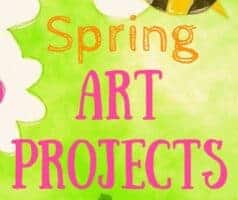 Spring is the ideal time to get started on some colorful art projects as well as to explore seasonal concepts and themes in your classroom.
Whether you are teaching kindergarten students about the changing seasons, or you are working with fifth-grade students on plant life cycles and biology, you can find art projects that are both educational and fun for your classroom curriculum. 
Here are a few ideas to help you as you make your lesson plans.
6 Spring Art Projects for Teachers to Use with Their Kids
1. Earth Day —
As you celebrate Earth Day this spring, consider having your students create a tree made from recycled materials.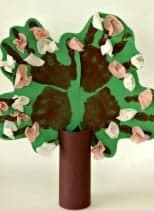 Or, have them create a flower. Recycled cardboard can be cut out in the shape of petals, and egg cartons can be used as the stamen of the flower. Glue the materials together in order to create the bloom itself, then ask the students to paint them in their favorite floral hues
Visit this link to see –> 53 Earth Day Journal Prompts Ideas Kids
And this one to explore –> 6 Earth Day Crafts from Recycled Materials
2. Mother's Day–
Encourage your students to use spring-like images in order to design a Mother's Day card for the special lady in their life.
Mother's Day will be celebrated on May 10th this year, so your students will enjoy creating something special as a surprise for their mom, step-mom, aunt or grandma.
Ask students to paint butterflies and flowers in order to allow them to develop their artistic skills and talents, but also tell them to write a special message on the inside of the card.  
See this resource–> 53 Mother's Day Journal Prompts Ideas Kids
3. Painted Pot —
Have your students paint terra cotta pots that can be used incorporated into a science lesson on plant life cycles. Students can express their individualism by painting their pot in any way that they choose.
Once the painted pots have dried,  you can have your student's plant flowers, fruit, or grass seeds in the pot. During the next several weeks, ask the students to water the plants and monitor their growth and development in a journal.
Once their plant is grown, they can take home the pot as a special souvenir to remind them of this project. It's a great way to combine both art and science into one fun activity.
Here are some instructions on painting flower pots
4. Rainbow Truck Painting —
Get a little messy while learning about the colors of the rainbow with a rainbow truck painting. This is a wonderful art project for younger students, particularly those in kindergarten and first grade.
Put drops of paint in all colors of the rainbow at the bottom of a large piece of art paper. Give the students a small truck or car, and tell them to run tracks through the paint. They will make their own rainbow, and have a blast doing it!
5. Cherry Blossom Tree–
Show students that different materials can be used to create art by designing a cherry blossom tree with a soda bottle. This project would work well for students in the third through fifth grades.
Ask them to paint a tree trunk with branches on a blank piece of paper. Once their tree is complete and dried, pass out empty soda bottles to each student.
Show them that if they dip the bottom of the soda bottle into pink paint, they can make beautiful cherry blossoms on each branch. You can provide them with more information about the cherry blossom tree, and also teach them about how these trees ended up in Washington D.C. This adds a social studies element to your art project.
Here are the instructions on how to create your very own
cherry blossom art from a recycled pop bottle.
6. All about Honey Bees —
Learn about honey bees and the important role they play in our environment with a honeycomb craft. Honey bees are becoming increasingly vital, particularly as their numbers drop throughout the country.
After giving a lesson on bees and how they play a direct role in our ability to eat and thrive, let your students make their own hive using canvas, paint, and honeycomb-shaped cereal.
First, they need to paint a beehive on their canvas, and then they can glue the honeycomb cereal pieces onto the hive. Next, they can use their thumb in order to make thumbprints around the hive. These will be transformed into tiny honey bees when they add stripes and wings after the paint has dried.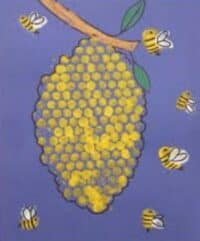 These art projects are just a few ways you can celebrate spring in your classroom this year with your elementary students. We hope they help make your space bright and inviting, while also giving your students new insight and knowledge.
Springtime Resources & Links