Introduction Sentence Starters That Will Grab Reader's Attention Listed by Grade Level— Unlock your students' potential with our wonderful list of Introduction Sentence Starters. This is a must-have resource for every classroom to help your writers conquer the blank page, one sentence at a time.
Tailored to each grade level, these prompts will spark creativity, enhance writing skills, and build confidence in young writers. Yeppers, these introduction story openers offer a starting point for students to let their imaginations run wild, crafting narratives that can be as simple or elaborate as they desire.
Plus….
These sentence openers and paragraph starters can be used for both fiction and academic writing. Take a look now and enjoy.
Whether in middle school, high school, or college, these prompts encourage creative thinking and the development of engaging storylines.
Yes. Creating a compelling introduction is more than just adding works on paper. It's about creating a hook that entices the readers to keep reading.
Now…
Students also have to incorporate transition words that create a seamless story flow, helping readers fully immerse in the text. Attention-grabbing and good sentence starters are those that captivate readers from the first sentence of essays, blog posts, novels, a thesis statement, or any other piece of writing.
Examples of Sentence Starters Listed by Grade Level
Students can use the following sentence starters for essay writing, explaining nonfiction events, sharing interesting stories, or any other writing project.
Ok, it's time for those lists of introduction sentence starters by grade level now. Here you go!
10 Introduction Sentence Starters For Elementary School Students
I always wanted to be a ____.
I never thought I would ____, but I did.
The most amazing thing happened to me yesterday.
I was walking home from school when I saw ____.
I found a ____ and it changed my life.
I met a ____ who taught me a valuable lesson.
I had a dream that ____.
I was scared, but I knew I had to ____.
I made a new friend who ____.
I learned that ____ is important.
10 Starters For Middle School Students
Picture this:…
Once upon a time in a land not too far from here…
Did you know that (add an interesting fact or a statistic)…
Imagine a world where…
Close your eyes and think about…
On a sunny morning, John woke up in excitement, knowing that…
In a mystical forest of (any made up name of the place), a group of friends stumbled upon…
In a quiet town, a mischievous girl came across a…
On the first day of summer break, (character name) discovered a hidden map to…
In a land of talking animals, he had an extraordinary ability to…
10 Starters For High School Students
As I delved into the pages of (book name), a single sentence stood out, demanding my attention…
In a society grappling with (any supernatural issue), some new information…
From the bustling streets of (city name), a young boy…
One thing I find fascinating is…
After a series of events, (character name) discovered a hidden truth about a close friend…
Have you ever noticed how…
In a world where everyone had a superpower, (character name) was the only one who…
In a parallel universe, she was faced with a peculiar…
At the stroke of midnight, he received a mysterious phone call that…
During a music festival, (character name) met a stranger who…
10 Starters For College Bound Students
In the intricate web of politics, an often overlooked detail surfaces…
As the modern world presents technological breakthroughs at an unprecedented rate, one thing remains constant…
As I embark on my higher education journey, I have discovered that…
In the archives of an old library, I uncovered a book that…
On the night of graduation, (character name) found out a shocking truth about…
Under the glow of a library lamp, (character) lead them to confront personal truths
On a study abroad adventure, (character) found themselves navigating cultural differences, language barriers, and unexpected…
As she turned 18, (character) discovered secret powers that could…
During a scientific experiment, (character) encountered species that can put the world in danger…
On the battleground where conflicts shaped nations, (character) discovered relics that whispered…
These are just a few examples, and there are many other possibilities. The important thing is to choose a starter that interests the student and gets their imagination going. Once they have a good starting point, they can use their creativity to flesh out the story.
Of course…
I hope you enjoyed these introduction sentence starters and use them with your writers.
Why Use Introduction Sentence Starters with Students
There are many reasons why you might use introduction sentence starters with students in your writing class. Here are a few:
To help students get started. Writing can be a daunting task, especially for young students. Introduction sentence starters can provide a scaffold for students to get their ideas down on paper.
To teach students about different writing techniques. There are many different ways to start a story or essay. Introduction sentence starters can help students learn about different techniques and experiment with different styles.
To help students engage the reader. A strong introduction is essential for engaging the reader and keeping them interested in the text. Introduction sentence starters can help students write introductions that are attention-grabbing and interesting.
To help students improve their grammar and mechanics. Introduction sentence starters can help students focus on the content of their writing, rather than worrying about grammar and mechanics. This can free up their mental energy to focus on writing a clear and concise introduction.
To help students build confidence. When students are able to start their writing with a strong introduction, it can help them build confidence in their writing skills. This can lead to them being more willing to take risks and try new things in their writing.
Overall, introduction sentence starters can be a valuable tool for helping students improve their writing skills. They can provide a scaffold for students to get started, teach them about different writing techniques, help them engage the reader, and improve their grammar and mechanics.
4 Quick and Helpful Tips
Here are some additional tips for using introduction sentence starters with students:
Model how to use them. Show students how you would use an introduction sentence starter to start a story or essay.
Provide a variety of sentence starters. There are many different types of introduction sentence starters. Provide students with a variety of starters to choose from.
Encourage students to experiment. Don't just tell students to use introduction sentence starters. Encourage them to experiment with different starters and find ones that work for them.
Provide feedback. As students write, provide them with feedback on their use of introduction sentence starters. Help them identify areas where they can improve.
By following these tips, you can help students use introduction sentence starters to improve their writing skills.
Now check out this list of…
104 More Free Writing Prompts & Resources
Ok, that's all for today.
Until next time, write on…
If you enjoyed these Introduction Sentence Starters,
please share them on Facebook, Twitter, and/or Pinterest.
I appreciate it!
Sincerely,
Jill
journalbuddies.com
creator and curator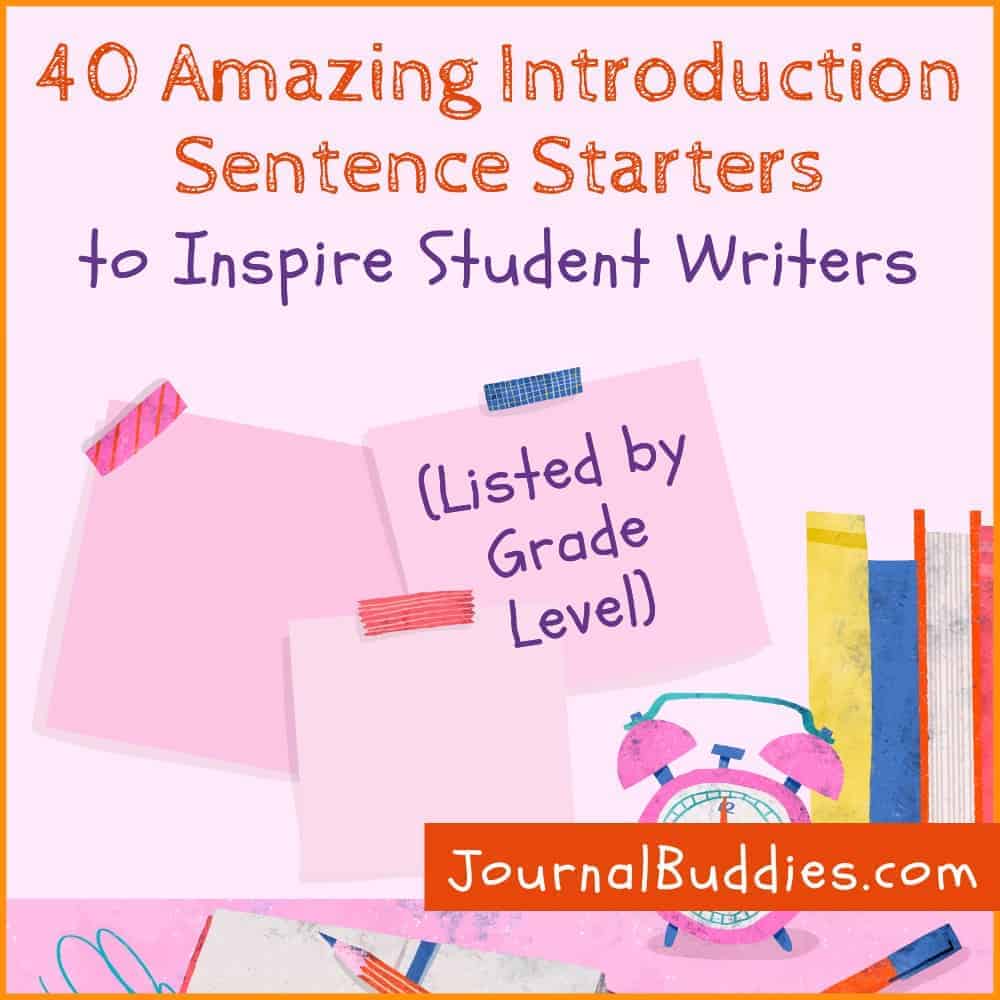 PS Check out this sentence pattern lesson plan —> Add Rhythm to Your Writing with Sentence Pattern Variation