Need some summer writing ideas? Hooray…We have a fabulous list of June writing prompts for you, 15 more bonus ideas, and free Printable Monthly Calendar. From young writers to adults, there is something here for everyone. Scroll on to see more now. Enjoy!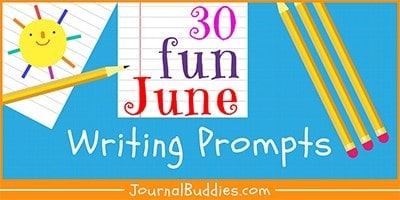 June Writing Ideas for Fun and Enjoyment
Summer is a time for relaxation and fun, but it also possesses a certain freeing air of possibility.
I mean…
In the summer, kids have the chance to explore new things that they might not otherwise try during the school year. From spending time with new friends to starting a different routine, summer is the perfect time of year for kids to stretch their limits and find new aspects of their personalities.
Try Something New with these June writing Prompts
This June, writers who use the following June writing prompts and journal prompts try something new every single day. Some tasks are simple, like trying a new food or reading a new book—while others will require a little more creativity, such as creating a new language or spending a day without electronics.
Plus…
Some of our June Writing prompts will challenge students as they work to help out more around the house or interview their grandparents about their lives. At the end of the day, students will journal about their experiences. By writing about what they did and the experience of trying something new, students enjoy the chance to branch out and see the benefits of pushing themselves toward new activities.
The summer offers a sense of freedom that is hard to find during the rest of the year. Encourage kids to explore new boundaries and seek out variety every day this June!
30 Fun June Journal Prompts
Our list of June writing prompts and ideas is great for younger writers as well as for scribes of all ages. This month, you'll try something new each day and write about your experiences!
Try…
A new food.
A new game.
Talking to a new friend.
Going to bed at a new time.
Complimenting everyone you talk to today.
Spending more time outside.
Sharing a special toy with a friend or sibling.
Thinking of ways you can earn money.
To create your own language.
Listening to a different type of music.
Cooking something new.
Reading a book about someone from a different culture.
To learn three new things you didn't know before.
Helping out more around the house.

Asking lots of questions today.
Visiting a neighbor.
Wearing a mismatched outfit.
Doing whatever a friend wants to do today.
Memorizing a poem.
Watching your old favorite movie.
To go the entire day with no computer, television, iPad, or cell phone.
To convince your parents to let you do something you've wanted to do.
Doing something random and nice for someone else.
To read a new book.
To eat only healthy foods all day long.
Interviewing your grandparents or a neighbor about their lives.
Going through your room and finding things to donate.
Using an accent or silly voice all day.
To make something or do a creative art project.
Doing something you normally don't like and making yourself smile the whole time.
Take some time to reflect on this list of June writing prompts and journaling ideas and write about the thing you tried and consider whether it was difficult to try something new. What did you enjoy (or dislike) about each new experience?
I hope you enjoyed this list of summer daily journaling ideas. But…
In case you need even more writing inspiration, here are some more ideas for you to write about this summer vacation!
15 New Prompts and Writing Ideas for June
Yep… here are even MORE June writing prompts for you!
Write a story about a bicycle (your first one, a new one, your dream one, or…)
What grade levels have been your favorite so far and why?
National Best Friends Day is June 8th. Write about your best friend and why you love them so much? (see loads more Friendship Day Prompts)
Do you prefer June over July or another month and why?
What are the best things about summer vacations?
Why is it important to have good writing skills?
Do you use pencils when you write and, if not, what are your favorite, go-to writing tools?
Write a list of at least 10 beach theme prompts and then write about one of them.
Write at last 10 pirate theme prompts and choose one of your own prompts to write a story about.
Do you enjoy summer writing activities, why or why not?
What is your favorite topic to write about and why?
Do you keep a diary, why or why not?
Vegetables day is June 17. Write a story from the perspective of your favorite/least fav veggie?
What form of writing excites you the most and why? (Creative Writing, Fiction, Mystery, Romance, Short Story…)
What is one fun way you can enjoy your holiday vacation to the max?
Hopefully some 45 of these June writing prompts inspire you and get your creative juices flowing.
Monthly Prompt Calendar for June
This is from our Monthly Journal Prompts blog post where you can find printable calendars for additional months. Here's the June Printable Monthly prompt calendar.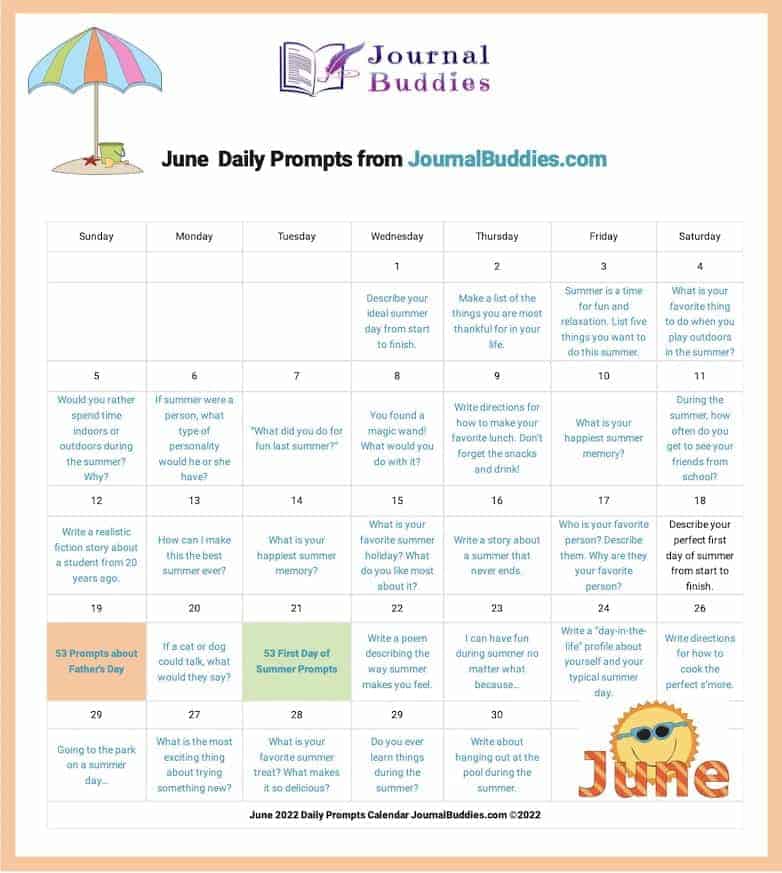 More Great Summer Journal Writing Prompts & Resources
Until next time, write on…
If you enjoyed these June Writing Prompts,
please share them on Facebook, Twitter, and/or Pinterest.
I appreciate it!
Sincerely,
Jill
journalbuddies.com
creator and curator