One sunny day, many years ago, I was sorting through a keepsake box of stuff from my childhood when I discovered some of my diaries. You know the ones with the little locks? Well the locks were all broken (thanks to my brothers!), but otherwise the dairies were intact.
You can imagine how my excitement grew as I wrapped my hands around these little treasures. I was about to enter a doorway to my childhood…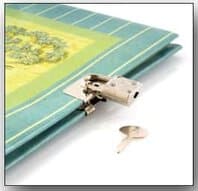 As I read the entries, I was thrilled to re-discover my musings from long ago. I was even more thrilled to gain precious insight into my thoughts and feelings at such a tender age. Sadly, I had only recorded a handful of entries in each diary and was left with a deep yearning to read and learn more about myself as a child.
The Answers Came
For many days thereafter, one question haunted my mind – "Why did I stop writing?" Here is what I realized:
As a child I was simply overwhelmed with all of the blank lines in my diary and with the deep obligation I felt to completely fill ALL lines of EACH and EVERY page.
I realized that my childhood notion of how to keep a dairy had taken the fun out the activity.
You see, from the answers to my first question of why I stopped writing, I pondered the next question:
"How can I help encourage kids today to start and continue with their journaling?"
The simple answers to this question are what eventually became my Journal Buddies book series.
I imagined journals full of creative journaling ideas, lined pages, blank pages, and the core idea of sharing, not hiding, our thoughts and feelings. This is just a small overview of what is inside each copy of Journal Buddies.
Fast Forward to Today
Five years later, three journals (two versions of the girls and a boys version), a new journal to be published in late summer, and untold numbers of children happily discovering the joys of journaling, and this is just the beginning. All of this from a few childhood diaries of mine and a few insightful questions. Life is amazing!
It is my belief that messages of love and acceptance, sharing, and discovery through joy and creativity are needed now more than ever by the girls and boys. I will continue to do my part and create, share and promote journals that reach far and wide and bless and heal and empower kids on their journey through life. I will continue to spread the joys of journaling and am honored to have you along for the journey.
Happy journaling…
Sincerely,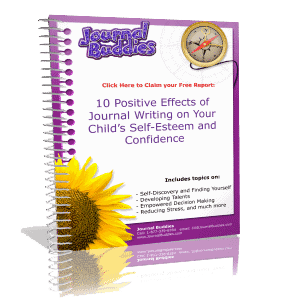 Jill
Author and Creator of Journal Buddies
PS Grab your Free Report "10 Positive Effects of Journal Writing on Your Child's Self-Esteem and Confidence"