Bullet Journal List Ideas— Does it ever seem like there's too much to keep track of in this crazy world? For good reason; most of us have to track work tasks, fitness goals, meal plans, school supply lists, and more … all with the use of different devices, Sticky Notes, paper planners, and (gasp) sometimes our hands. Who has time for that kind of nonsense?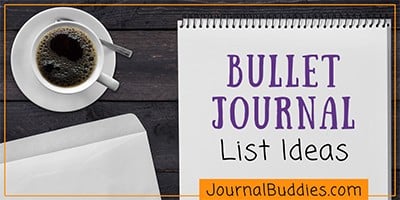 That's where bullet journaling comes in. Using a simple, streamlined set of bullets, circles, and dashes, you can track tasks, events, and notes like a boss. When you have to "migrate" tasks to a new month, you use carrots and strikethroughs to do so in a meaningful manner you can track later.
Even those who use the bullet journal regularly don't leverage the extent of its versatility, though. It offers so much more than daily planning services. Think brain dumps, habit trackers, goals and rewards, and more.
Whether you're a pro or a newbie, check out these additional bullet journal list ideas – and start using them today!
My Favorite Bullet Journal List Ideas
Gratitude Tracker: Keep lists of what you're thankful for each and every day. If you want, you can make spaces for three a day – or whatever feels right to you – so that you can fill them in every morning when you get up.
Birthday Reflection: Do you ever wake up feeling blah, wishing you could be someone else? According to Past You, though, you are someone else. Each year on your birthday, write a reflective entry about what you've accomplished and what you're hoping for in future years. That will help you see how far you've come.
Trip Planning: Got a big trip coming up? Dedicate a page to what you need to do and buy beforehand.
Brain Dump: A place to write down every single idea on a particular subject – or everything inside your head period. Once you've cleared out your head, you can go back and make use of those ideas. This is particularly helpful when you're starting a big project and feel confused or overwhelmed by the enormity of the task. In that case, write down everything you'll need to do and know in as granular a manner as possible.
Financial Savings: Saving up for something big? Make one of those thermometers where you can track how much money you've set aside toward the goal.
Habit Tracker: A tool that uses a weekly or monthly calendar system to keep you accountable to a goal or habit. Think writing a certain number of words each day or completing your food diary app.
Bucket List: Who doesn't love dreaming about the future? The great thing about a bucket list in your bullet journal is that by leaving 3-4 pages in the notebook for it, you can always come back and add ideas as they occur to you. Then you can use the bullet journal notation system to cross items out and migrate list items to new bullet journals as appropriate.

Books and Films: Do you ever feel as though you can't remember a good book to read or movie to watch when you need it? Now you'll always have a place to write them down as they occur to you.
Additional Key: If the traditional bullet journal key of symbols isn't enough for you, create a more intensive one that allows you to express your range of journaling needs.
Goals: Your dreams and aspirations matter, just like those bucket list items. It's easy to lose track of them in the day-to-day shuffle, though. A goals section in your bullet journal will make it easy to flip to that list of desires whenever you want.
Rewards: Want to make your goals list about 30 million times more effective? Attach rewards to each goal. So if your goal is to use that gratitude tracker every morning for a month straight, then your reward might be that you can buy yourself a pretty pen to use for it in the future, assuming you hit your goal. This makes your aims much more tangible and gives you a little bit of harmless motivation.
If you already use this journaling system, hopefully, these bullet journal list ideas will help you enrich your spreads from now on and get even more out of your journal.
If you're ready to get started with a bullet journaling system for the first time, watch the video instead!
Until next time, write on…
If you enjoyed these Bullet Journal List Ideas,
please share them on Facebook, Twitter, and/or Pinterest.
I appreciate it!
Sincerely,
Jill
journalbuddies.com
creator and curator