List of Creative Writing Ideas to Inspire You— The purpose of any creative writing idea is to give developing writers the direction they need while still allowing them to use their imagination. So…
Whether you are working with lower elementary students, middle school kids, or high school students, you will find that everyone can use creative writing inspiration every now and then.
Now…
The best part about creative writing ideas and prompts is that they can be used in nearly any classroom setting. A creative writing idea can help your students work through the math concepts that you are studying, or it can allow them to practice using their vocabulary words.
The key to successfully using a creative writing idea and list of prompts in your classroom is to have a wide variety of prompts ready to go.
You see…
Our list includes interesting and engaging topics, story ideas, and journaling prompts from every genre to beat writer's block and craft new works, including science-fiction, fantasy, history, romance, and more!
Use this creative writing idea list of prompts to inspire individuality and innovation inside your classroom
List of Creative Writing Prompts with 53 Ideas for You
If your pet could talk, what would he or she say?
Do you ever donate money to people in need?
If you had an invisible magic helper, what would you have him or her do?
Write about a time when you shared with someone.
What is the best decision you ever made?
If you were a movie director, what kind of movies would you make?
What is your favorite holiday? Why?
If you could do anything right now, what would you do?
If you hosted a radio show, what would it be called?
Write about something that you know is true.
What is your favorite drink?
What do you see when you look at your house?

If you could visit the set of any TV show, which would you go to see?
Write about the way it feels to share.
Write a fable about a very tall girl.
What do you think about more than anything else?
What is the best way to make someone feel loved?
Why is it important to learn about so many subjects at school?
Write a poem about something you're good at.
If you could only eat one food for the rest of your life, what would it be?
If you were a bird, what kind of bird would you be? A large eagle? A tiny bluebird?
Write an alternate ending to your favorite movie.
What is your favorite thing to do on the playground?
Creative Writing Idea List of Prompts
(30 MORE Bonus for You!)
Write about what it might be like to slide down a rainbow. 
If you could write a book, what would it be about?
Write a story about two friends who discover a magical forest.
Write a journal entry about a reptile that can talk.
Describe what the fall season would be like from the perspective of a tree.
Write a story from the perspective of your favorite historical figure.
Imagine two sea creatures who are best friends. What do they like to do together?
Write about how you would redecorate your bedroom if you could.
What does it feel like to be inside your classroom?
Write about what it would be like to spend a day in the life of your teacher.
Would you hire a robot assistant to live and work in your home? 
You are currently living through history. What will you tell your children or grandchildren about this time?
Write about a video game that you would design.
Invent a new recipe. Who would you serve it to?
Write a poem about the last day of school.

Where do you see yourself in 5 years? 
Write about how you became interested in your favorite sport or hobby.
Write a story about life in a faraway galaxy.
What would life be like if you were a character from your favorite book?
Write about what it might feel like to make an unexpected discovery. 
If you could invent anything, what would you invent? Why?
Write a story about a character who reaches into their pocket and is surprised to find a precious jewel.
What is your most treasured memory? Describe it in detail.
Write about what it might have been like to live amongst the dinosaurs.
Create a fictional story about two seeds moving through their life cycles together.
Transform one of your story problems from math into a short story.
Write about a princess who saved the prince from the castle.
Describe what it would feel like to travel across the ocean on the back of a whale.
Think about where you were one year ago. What would you say to your former self?
Write a story about a child your age who has a chance to have lunch with the President.
I hope you enjoyed these prompts!
A Few Closing Thoughts
The best part about encouraging your students to take up creative writing is that there is no right or wrong answer when it comes to completing a creative writing idea. They can simply use the prompt as a starting point, and design their own fantasy world or write about real life from there.
Creative writing prompts can give your writer the sense of having magical power that gets their creative juices flowing and levels up their writing practice. Yes!
You will be delighted to see the various characters, scenes, settings, and plot lines that develop within your classroom — all from the same simple prompt. Sci-fi story starters, fantasy writing prompts, or thriller or horror writing prompts will all give young writers new ideas that will amaze you and them!
One creative writing idea can spark a lifetime passion for writing. Remind your students that this is just the beginning and there is no limit to their creativity — and that they can always keep on writing!
345 MORE FREE Creative Writing Prompts
If you enjoyed this Creative Writing Idea List,
please share them on social media via Facebook, TikTok, Instagram, X, and/or Pinterest.
I appreciate it!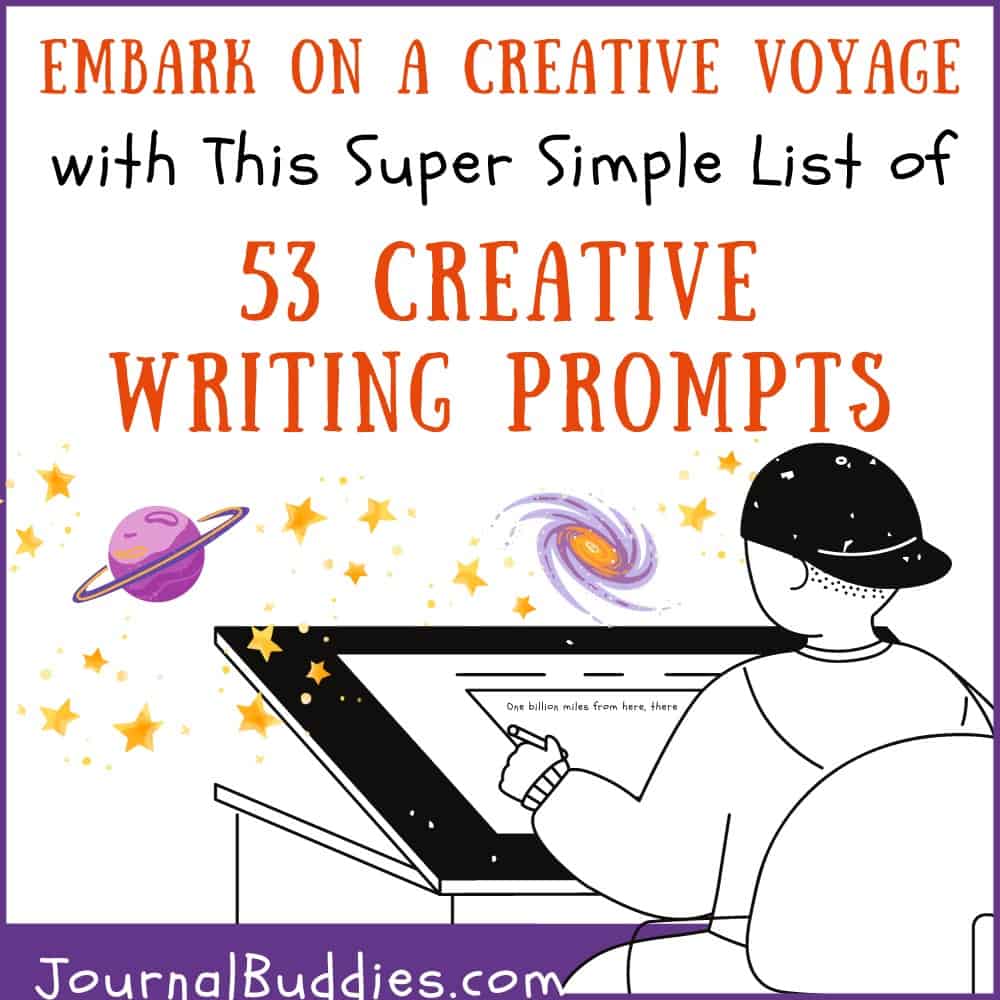 Sincerely,
Jill
journalbuddies.com
creator and curator
PS – take a look at these Creative Writing Worksheet Free Printables!
From the archives—The following was the original introduction to this post in 2012 and was replaced in Aug of 2021.
Welcome! Here you will find creative writing prompts and ideas. In total, we share with you 251 creative writing prompts for writers of many ages. There's truly a question for every person and every situation in these creative writing prompts.
Ideas range from the silly to the serious, with questions on superpowers, talking penguins, gender equality, and everything in between. Some questions will challenge writers to think about important world issues, while others will allow them to imagine a world in which boundaries don't exist.
Below is a sampling from the listing of 251 writing prompts. Check them out, and to find even more prompts, just scroll down to the links listed at the bottom of this article.
Remember that after writing on a variety of topics, writers will be excited to continue exploring. Fuel their curiosity with this series of all-new creative writing prompts. Enjoy and keep on writing!