Creative Writing Assignments Inspire Imagination and Teach Valuable Skills — Whether you've been teaching creative writing for years or you're just embarking upon your first class, it's essential for teachers to understand the true impact that writing can have on a student's life.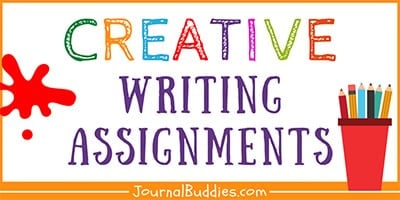 Creative writing assignments aren't just a frivolous way to pass the time—they're a powerful, inspirational way for students to get in tune with their own thoughts and learn to communicate more effectively. Read on to learn about the top five ways that creative writing assignments can positively influence your students.
Top 5 Ways Creative Writing Assignment Positively Influence Students
1. Get Kids Thinking Outside the Box
The first benefit is all about the "creative" side of writing—and the fact that creative writing assignments encourage your students to think outside the box. Book reports and essays all have their own very valuable places in the classroom, but creative writing is a place of true imagination and possibility. Through activities like journaling and story-writing, your students learn to embrace their inner creativity and unlock their potential for birthing new ideas.
2. Develop Valuable Writing Skills
The next important benefit of creative writing is a little more tangible and a lot more practical—creative writing assignments are a great opportunity for kids to improve their writing skills. As students are learning to communicate effectively through the written word, any writing is good practice. However, creative writing truly allows kids to become more comfortable on the page and to learn how to express new thoughts. Because there are no boundaries on creative writing, students can fully explore the power that written words have.
3. Become More Comfortable Sharing
When students get more practice in expressing their thoughts, ideas, and feelings through creative writing, they'll also become more comfortable expressing these things in their daily lives. Creative writing assignments (and journaling in particular) help students learn that what they have to say matters—and also allows them the space to think about and form new connections. Kids who learn how to express themselves through writing from an early age have a much easier time articulating their thoughts intelligently later in life.

4. Connect with Their Classmates
Though sharing creative writing work is always optional, many teachers have found that their students are more engaged when they get to share their assignments with their classmates after everyone has finished. Having your students read a selection of their work aloud (or even posting everyone's assignments on a classroom bulletin board) encourages kids to bond and connect with their classmates over the stories and ideas they've shared. And in some cases, seeing another student's great work may also encourage a child who has struggled with the assignment to keep on working to improve his or her own writing.
5. Promote Reflection
Finally, creative writing is an especially valuable practice for students of all ages because it promotes reflection. All too often, kids live their lives in a reactionary state in which the actions and circumstances around them dictate their behaviors. Creative writing assignments encourage kids to stop and think about how they feel and what they think—thereby empowering them to begin making decisions and seeing the world from their own unique viewpoints.
Creative Writing Practice Prompts
Trade spots with a classmate and write about your new seat.

What are the advantages to sitting in your classmate's spot?

What are the advantages of sitting in your spot?
Go outside and find a place to sit down and write.

Describe everything you see and hear.

Include as many sensory details as possible.
Go to the (hallway, gym, library, etc.) and observe the place around you.

What kinds of things have these walls seen over the years?
For homework: Find a place at home to sit down and write.

Think about your family's home and what you like about it.

Describe how your home makes you feel.


Lay down on the floor next to your desk for a few minutes with your eyes closed.

Then, write about what you heard, smelled, and felt while on the floor.

Describe what you thought about.

Write a fictionalized account of an event from your life.

Write a reflection on something that happened to you last week.

Write about something that you would like to happen in the future.

Write about a person in your family and describe him or her in detail.

Then, describe why he or she is special to you.
Write about your favorite thing to do.

Describe why you like it and why other people should try it, too.

Write about any topic you like!
More Creative Writing Resources
Until next time, write on…
If you enjoyed these Creative Writing Assignments,
please share them on Facebook, Twitter, and/or Pinterest.
I appreciate it!
Sincerely,
Jill
journalbuddies.com
creator and curator