Graduation writing prompts for seniors in high school— For high school seniors, the end of this school year is a milestone moment in their life. They are looking forward to an exciting summer and the adventures that lie ahead, including college courses, military training, internships, travel and technical school programs. That is exactly why…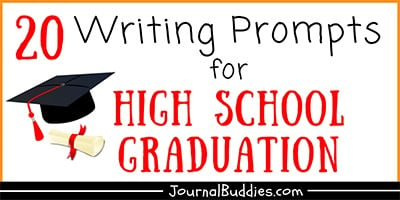 Below you will find 20 high school graduation writing prompts to share with your high school seniors.
You see…
While there's so much to look forward to for these young and aspiring students, there's also a lot to reflect on as well. This can be an emotional time and is often considered to be a bittersweet moment.
Students are saying goodbye to their friends and the school that they have known for the last four years, while at the same time they are dreaming about who they want to become.
As graduation approaches, it's an ideal time to ask your high school seniors to write in their journals or complete an essay. This final assignment gives them a sense of closure on their high school experience and can serve as a memento for years to come.
20 Great Graduation Writing Prompts for High School Seniors
Think back to your first day of freshman year. Did your high school experience go as you expected it to? Explain.
You're walking out of school on the last day of your senior year when you see an incoming freshman student coming in to look at the school for next year. You can only offer them one piece of advice. What is it?
Describe your best friend from kindergarten. Do you still know this person? Are you still friends today? What happened throughout the course of your friendship?
Write about your favorite memory from sophomore year. Why is that one so special to you?
Senior year is filled with many milestone moments and exciting memories. What was your favorite part of senior year, and how will that memory stick with you throughout the rest of your life?
Throughout your school years, you probably told plenty of teachers that you will "never use this information in the future." Now that you are about to graduate, what is some information that you know you will carry with you as you move on to new and bigger adventures?
You are allowed to take a trip to any destination after college, and there's only one rule: You can't go with your family. Where are you going to go? Who are you going to take with you?
What is the one song that you feel has defined your senior year of high school, and will always remind you of high school graduation? Why does this song speak to you?
You've been chosen to give the commencement speech at your graduation ceremony. What are you going to tell the graduating class of 2017?
Think about this quote from Oprah Winfrey: "Education is the key to unlocking the world, a passport to freedom." What does this quote mean to you as you prepare for your high school graduation?

You've spent four years at this school, and you've likely been involved in many different sports, activities, and clubs. What do you feel is your legacy? What will you leave behind and how will future students remember you?
What is the biggest challenge that you faced during your senior year? How did you overcome it? What advice would you give to another student who is facing similar issues?
Now that you are graduating from high school and embarking on a new season in life, consider the goals that you want to accomplish. Create a list of three goals for the coming year and your plan for accomplishing them.
Consider what your next step will be after graduation. Why did you choose this path? Where do you hope to be in 5 years?
Write about your best friend and how they impacted your high school years. Describe your friend and explain the moments that defined your friendship.
Was there a news event that defined your senior year? Describe the event in factual details, and reflect on how it impacted your final year of high school.
Think about all of the rules that you had to abide by throughout your high school years. If you could change one rule at this high school, which one would it be and why?
You're helping your mom with graduation party plans. What type of food are you going to have at your party? Did you decide on a theme? Describe your dream graduation party.
Explain what you think you will feel like as soon as you have your high school diploma in hand.
It's the first day of summer after high school graduation. You're finally free. What are you going to do?
I hope you enjoyed this list of graduation writing prompts.
More Links & Resources
Even after graduation, students should keep on writing!
Until next time, write on…
If you enjoyed these Graduation Writing Prompts for High School Seniors,
please share them on Facebook, Twitter, and/or Pinterest.
I appreciate it!
Sincerely,
Jill
journalbuddies.com
creator and curator