Writing Prompts for Elementary, Middle, High School and All ages writers + Inspiration and Tips — Some people naturally have active imaginations and minds that are always brimming with inspiration. However, many other people need a little help to get the creative juices flowing during the writing process.
Even seasoned writers often say there's nothing scarier than a blank page—and that page can be especially daunting when you're just starting out. Whether you're trying to journal or write a short story, the prospect of creating something from nothing can certainly seem intimidating.
However, think of it this way:
When you're writing, you aren't ever actually creating something from nothing…you're actually forging something from the vast experiences and unique perspectives that only you can share!
You see, creativity is not some mystical, unattainable thing. Your creativity already lives inside you—it's simply a matter of finding a way to tap into that creativity intentionally so that you may summon it whenever you need a little extra writing inspiration.
Imagine your creativity is like the gas tank in a car. It's always there, but sometimes the tank is a little more or a little less full. The more you use, the more you need to refill the tank. You don't have to know where the tank is located within the car in order to drive it and use the gas—but you'll have a really tough time if you don't know where the tank is or how to access it when it's time to fill up again.
The same principle applies to artistic endeavors like writing—if you're having trouble finding something to say when you sit down to the blank page, your creativity tank probably needs to be refueled.
Here are a few tips to help you find the writing inspiration and artistic fuel you need…as well as some writing inspiration prompts you can use to further unlock your creativity!
Tip #1: Stimulate the Brain Through Music and Art
Studies show that music and art stimulate the brain, improve performance, and boost creativity. To find new inspiration, listen to music, go to a concert, or visit an art museum. Music and art can expose you to different perspectives and broaden your horizons—in turn, unlocking your creativity and giving you the writing inspiration you need.
Tip #2: Pay Attention to the Little Details
If you're having a tough time finding inspiration for your writing, try slowing down and taking some extra time to pay attention to all the little details that surround you. Noticing the things around you that you typically overlook is one of the best ways to refuel your creativity with fresh inspiration.
If you're writing a story, think about details like a character's facial expressions or what kinds of things their body language might be giving away. Try to paint a vivid image of the setting in your mind and then list the descriptive details that bring it to life on a sheet of paper.
Similarly, if you're answering a journal prompt, consider the motivations and reasons behind why an event occurred rather than simply describing the impact of the event. Reframing things that happen to you and paying attention to the little details can help you find inspiration in even the most unlikely of places.
Tip #3: Keep an Open Mind
It's also important to practice keeping an open mind. Creativity involves being willing to try new things and being flexible, so it's essential to open your mind to new thoughts, ideas, and perspectives.
Whether you're having a new experience or simply reflecting on a character's motivations, practice keeping your mind open to philosophies and ways of viewing the world that might not be familiar to you. There is much joy to be found in seeing the world in a new light—and as you come across different thoughts and ideas, you'll find fresh inspiration and creativity to use in your writing.
Tip #4: Keep Track of Inspired Ideas
Finally, be sure to keep track of any inspired ideas that come your way! It's so easy to have a great idea and then forget it later. Try keeping a physical notepad handy or make a list on your phone where you can write down new ideas. Then, you can easily go back and look through your ideas for a bit of writing inspiration whenever you need a creative jolt.
As you practice these tips to fuel your creative muscles, try using the writing inspiration prompts below to put them into action! We've included a few short lists of journal starters below for writers of different ages to help unlock creative potential.
Writing Inspiration Prompts for Elementary School Students
For an extra challenge, ask your young writers to use 5 (or any number that you chose) different adjectives in their writing! See what new perspectives that challenge may bring.
What's your favorite food? Describe how it looks, smells, and tastes.
Write about your best friend, describing how he or she looks, talks, and acts.
What would you think if your mirror started talking? What would it say to you?
Who is someone you admire? Why do you admire them so much?
Write about a large ship that can take you anywhere you'd like to go. Where do you go?

Spend some time sitting outdoors and pay attention to what you hear. Write about all the sounds you hear.
If you could be an animal, which animal would you choose? Why? How would you spend your days?
If I were an adult, I would…
What subject in school is hardest for you? What are some things you could do to improve in it?
Make a list of five things you want and five things you need. What is the difference between a want and a need?
Writing Inspiration Prompts for Middle School Students
Tweens and teens can draw from personal experience and current events to pen some exciting stories!
Why is friendship so important? Write about why you think it's important to have friends and one of your best friends.
Imagine being someone's shadow for a day. What would that be like?
Imagine you see a closed door. It's locked. What's behind it, and why is it locked?
Write a story about a time you had to be quiet when you wanted to be loud.
What happens when your alarm clock goes off in the morning? How do you wake up?

Write a journal entry or story that's inspired by a photo you saw.
Write a story about an undiscovered planet and the beings that live there.
What would you do if you were invisible?
You wake up one day and realize you are suddenly inside your favorite video game. What do you do first?
What trait do all of your friends have in common? Do you share this trait also? What is one way you are different from most of your friends?
Writing Inspiration Prompts for High School Students
These creative writing prompts are perfect for helping older students settle into a regular writing routine. They can explore different genres of writing, contemplate new situations, or create a fictional world.
Think about one of your favorite songs. Write about why you like that song so much.
Create a journal entry or short story about a conversation that you overheard.
What was the biggest, life-changing event that ever happened to you?
Write a story inspired by a dream you had recently.
Write a story where the two main characters mainly communicate through text messages and social media.

Do you believe people have a right to privacy on the Internet? Why or why not?
Write about something scary that you'd like to try.
Do you feel like you have control over your life? Why or why not?
When do you feel most fulfilled?
Write about the most meaningful experience you've had in high school so far.
Writing Inspiration Prompts for All Ages
Write a story based on the following prompt: You looked out the window one morning, and then you looked again. The weather forecast was completely wrong.
Write a story about two people who are seeing each other for the very first time in many years.
Write about a teacher in your life who had a big influence on you.
Have you ever told someone no when they were pressuring you to agree to something? Write about how that felt.
Imagine you are casting a movie based on your life. Who would play the main roles?

Would you rather have looks, fame, or money? Why?
What would your best friend say your best quality is?
Imagine you are walking through a museum when you see a piece of art on display that no one else seems to be able to see. You go to look at it more closely and…
Are you superstitious? Why or why not? Give an example from your own life that illustrates what you believe.
Describe your weekend routine. Which part is the highlight of your weekend? What do you like most about it?
Whether you're writing your first book, entering a writing contest, or simply looking for a new writing prompt, we've got you covered. Take a look below at even more blog posts!
Writing Inspiration Prompts & Links
Here's to greater inspiration in writers everywhere!
Until next time, write on…
If you enjoyed this article on Writing Inspiration,
please share it on Facebook, Twitter, and/or Pinterest.
I appreciate it!
Sincerely,
Jill
journalbuddies.com
creator and curator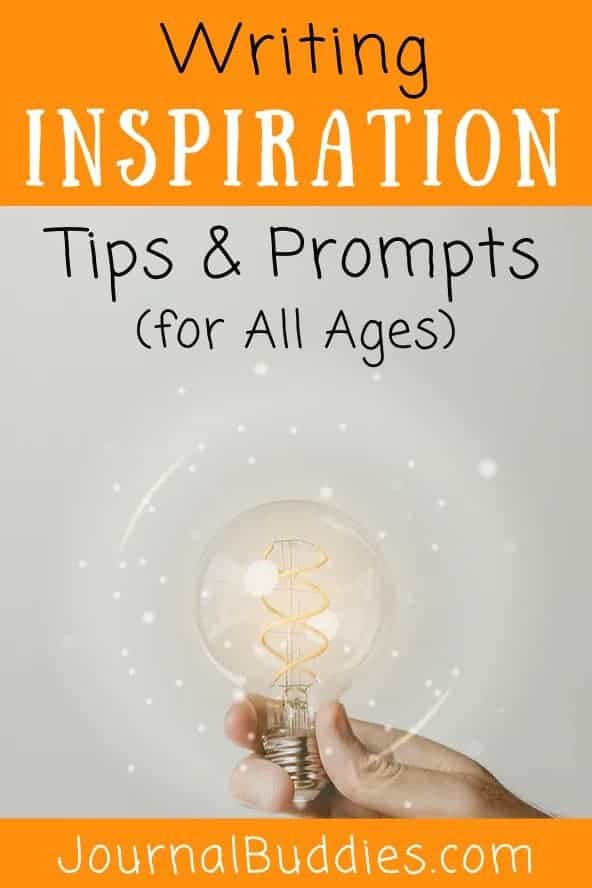 ---
From the archives, the following article was originally published on our blog in May of 2011 and may be of interest to you today.
---
More Writing Inspiration for Kids
Journal Ideas: 8 Fun Inspirations for Kid Journaling—
Great journal ideas are key to keeping kids engaged in their journal keeping efforts. Journaling is a fun way to keep a child's writing skills – and imagination – sharp and fresh. This activity is great to share as a family, to do on one's own or to mix it up and do both! It really comes down to personal preference and choice and to which journal ideas truly thrill the journal keeper the most.
Throughout the year and especially during the summer months, exciting and inspirational journal ideas are a good way to keep kids busy with a healthy activity. It can also help them to practice and refine their writing skills and creativity.
Here are a few quick and easy journal ideas to get the kids started or keep them going on their journaling adventures!
Journal Ideas: 8 Great Inspirations for Kids
1 – What if you were president?
Write as if you were president of the United States. What changes would you make? What kind of laws would you enact?
2 – Make up a holiday.
Make up your very own holiday. What would be the theme? What would it be called? What types of games, food, and traditions would be included in this holiday?
3 – Write about your favorite food.
Describe your favorite food. Be descriptive when telling about its look, feel, smell and taste. What does it remind you of? How does it make you feel?
4 – What do you want to be when you grow up? Do you want to be a doctor or a carpenter? Tell why. What aspects of the job appeal to you? You can also tell what you don't like about the job.
5 – Write about the ultimate birthday gift.
If money was no object and you could receive any birthday gift, what would it be? How big would it be? Would you use it every day? How impossible is it that you would actually get this as a gift? Another journal idea would be to write about the ultimate birthday party.
6 – Write about your most embarrassing moment.
Everyone has something embarrassing that has happened to them. Write about yours. Remember, this journal is for your eyes only, so do be afraid to be specific.
7 – If you were an inanimate object, what would you be?
This will work with anything. You could write about what kind of food, animal, furniture or anything else you might be. Explain why you chose this object. What features and characteristics about this object are similar to yours? This is always a fun journal idea because you can let your imagination run wild and be whatever or whomever you want to be.
8 – Write about your favorite age.
If you could be stuck at one age for the rest of your life, what age would you be? Why? What do you like about this age? It can be an age you have already passed or an age you have not yet reached.
Journaling doesn't have to seem like work, especially if you think of fun journal ideas and write about your own interests. When you do so journaling can take your imagination to worlds you have never dreamed of. Writing, regardless of the subject matter, can be a huge stress reliever and can make you feel like you can once again take on the world.
Here's to fun and inspirational journaling ideas! Until next time, journal on…