Fun and Fabulous Journal Writing Prompts and Topics— Yes, journal topics are helpful to ignite the imagination and get those creative juices flowing freely, and students who begin a regular writing habit at a young age are more likely to continue throughout their lives. (Although it's never too late to start!)
Yes, journal keeping is a simple yet powerful gift you can give to yourself, your kids, or anyone.
Plus…
It's a gift that keeps on giving, helping youngsters, pre-teens, teens, and adults to develop skills that will aid them in resolving conflict, coping with stress, and balancing their mental health for decades to come.
Truly, journalbuddies.com offers you thousands of writing ideas.
Fabulous and Fun Writing Prompts for You
This wonderful list of journal writing prompts is filled with ideas that are wonderful for writers from young to older kids. In other words, you can use them with your elementary-age kids to middle school students, high schoolers, and beyond.
So don't wait! With this fun, imaginative collection of writing ideas, there is much to explore and to write about. Make sure to read through our list of prompts and work them into your writing practice or classroom routine today.
By establishing a regular writing routine for your kids, you will help them expand their writing skills which will only benefit them in the real world. Ok, take a look, use these journal writing topics and prompts, and, above all, enjoy!
27 Fun Journal Writing Topics and Prompts for Young Writers
Why are friends so important?
Why is family so important?
Describe Sundays at your house.
Observe at least 5 things you see happen on your way home from school/work and write about them.
Describe a place from your past.
Describe your concept of luxury.
Describe happiness and what it means to you.
Write a poem about your favorite person, animal, or place.
What if all the streets were rivers? What would be different?
What would happen if people never co-operated? Why do you think it is important to co-operate?
What would happen if it really did rain cats and dogs?
What would happen if animals could talk?
What are some of the questions you would like to ask animals?
What is the funniest thing that you have ever seen?
What is something you would like to learn more about?
What is something you love about yourself and why?
If you could change anything about yourself, what would it be and why?
Make a list of the things you are most thankful for in your life.
Which season do you like the most?? Why??
Which season do you like the least, why????

You just won $1,000,000. What are you going to do first?
Tell about a time when you were kind to someone.
Tell about your favorite song.
Write a story about the mysterious zizzybaloobuh that you just found in your backyard (or out on a walk or at the park).
What is something that makes you HAPPY!!!!! and why?
Tell about the last time you cried.
What are you scared of and why?
I hope you use the prompts to create a daily journaling habit. Now, if you need even more ideas, check out this list of ideas.
The Favorite Things List
For those reluctant writers or non-writers, we suggest you use the time-tested favorite writing prompts. They are simple ideas that nearly every writer can answer without much effort. Plus, they are an excellent way to get those creative juices flowing for writers of all skill levels. So grab those pens, pencils, and notebooks and get to writing now!
Favorite foods
Favorite movies
Favorite character
Favorite books
Favorite toy
Favorite season
Favorite movie
Favorite holiday
Favorite animal or pet
Favorite place
Family members
Childhood memory
Hobbies
Best gift ever
Favorite memory of your entire life
A favorite single day of your life
Yes! Fun, Fresh, and New Journal Writing Topics for Kids
When kids write in a journal, they are taking a journey into the depths of who they are. To further aid and encourage your child's journaling journey, below you will find a fresh list of insightful and fun journal writing topics to inspire your kids.
Use these ideas to help them to have fun as they write, learn, and grow!
31 MORE Fun & Fresh Journal Writing Topics for Kids
If you were a toy, what kind would you be? Why?
How is your life different today than when your parents were kids?
What is the most valuable thing you own? Why is it so special?
What is the most important quality for the President of the United States to have?
Write a poem about what is like to live in this year.
Have you ever gotten in trouble at school? How did you feel?
Make a list of 10 nice things you can do for someone else. Which will you do first?
Write about a compliment you receive often. How do you feel when you hear it?
Write a poem about America.
Write about something that makes your family unique.
Do you think of yourself as being artistic? What is your favorite type of art?
If you could learn another language, which would you choose? Why?
If you got a new pet, what kind of animal would you choose? Why?
Are you right or left-handed? Can you do anything with your other hand?
Write about something in your life that you couldn't live without.

What is the hardest thing you've ever had to do?
Write a poem about summer afternoons.
What does it mean to love someone?
What is your greatest weakness? How can you work to strengthen that quality?
Write about one thing you can do to improve yourself.
Write a poem about discovering something new.
If you could be any animal, which would you be and why?
What is the best feeling in the world? Why?
What is your favorite place to go? Why is it special to you?
Would you rather read your diary to a friend or a parent? Would you be embarrassed to share it?
Write a poem about being a boy.
Why is the Internet so important to our modern world?
What do you spend more time thinking about than anything?
Write a letter to your parents thanking them for all they've given you.
How many books do you think you read last year? Will you read more or less this year?
Can you imagine your life without the Internet? How would it be different?
Oh yeah, now that's a great list of journaling topics for kids.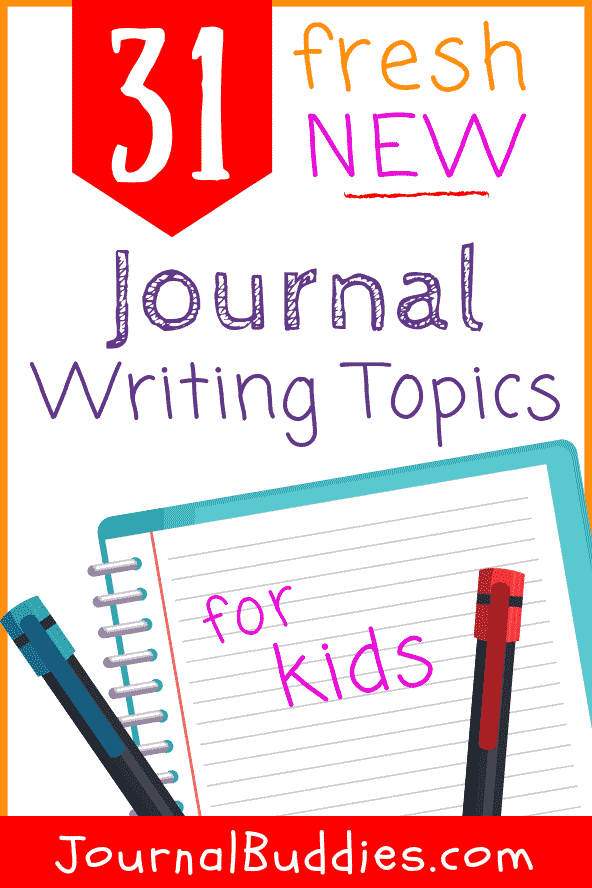 Related Lists of Journal Topics for Kids
Beyond Journal Writing Prompts… Tips and Suggestions
Before simply throwing out journal topics to your students, you may find it helpful to institute a class-wide journaling practice.
Yeppers…
You might begin with an introduction to journaling to clarify your expectations. You could definitely include an explanation to students of some of the wonderful benefits of writing in a journal. Even if outwardly they roll their eyes, inwardly they will take away at least some of that message.
Next…
Create a regular writing routine that is followed at least once a week. I suggest setting aside a full 15 minutes for fiction, nonfiction, and personal topics.
Lastly…
Take things a step further and create a journaling "mood," perhaps dimming the lights a little, putting on certain focusing music, or using a visual cue such as a soothing image on a Board or screen at the front of the class. Soon enough, the classroom "brain" will learn that these cues mean it's time to settle into that writing frame of mind.
Benefits of Using Journal Writing Prompts
Like many practices whose benefits rest only on anecdotal claims, science offers increasing evidence for the mental and emotional benefits of journaling.
Yes…
According to the University of Rochester Medical Center*, journaling brings a wealth of upsides, including:
Managing anxiety and stress
Coping with unpleasant or traumatic situations
Working on positive self-talk
Journal writing also cultivates creativity, personal expression, and the more technical side of writing.
As I said above, don't wait to use the journal writing prompts with your students because…
With our fun, imaginative collection of writing ideas, there is much to explore and write about. Make sure to use our list of prompts in your writing practice or classroom routine today. By establishing a writing routine for your kids, you will help them expand their writing skills which will only benefit them now and in the future.
*University of Rochester Medical Center Source.
Closing Thoughts
If you and your students enjoyed these topics, or if you came up with some excellent ones of your own, please feel free to share them with us. In the meantime, enjoy the soulful and creative exploration of these questions and the act of journaling can bring about.
Until next time, write on…
Additional Writing Resources and Genres
If you enjoyed these Fun & Fabulous Journal Writing Topic Lists,
please share them on social media via Instagram, Facebook, Twitter, and/or Pinterest.
I appreciate it!
Sincerely,
Jill
journalbuddies.com
creator and curator