Poem Topics and Poetry Writing Prompts — As a genre, poetry deals far more heavily in expression and emotion than most other types of writing—which is why it's a particularly great genre for middle-schoolers to work within. Tweens and young teens face a lot of complex scenarios and confusing emotions, and poetry offers a healthy outlet so that all of those feelings have somewhere to go.
These wonderful poem ideas and poetry writing prompts kick off with a few questions that help to introduce students to the freedom and limitless potential that exists within the genre. Then, students will begin writing their own poems on a wide range of topics—covering everything from global issues to family relationships to the passage of time. Whether or not your poem rhymes makes no difference!
Students should feel free to write any style of poetry they like—and the diverse topics they'll find within these prompts will encourage them to express themselves honestly and openly as they see fit.
Use these poem topics, poem starters, and poetry writing prompts for middle school students to teach kids about the joy of poems—and the beauty in free expression as they create their own poetry!
Poem Topics and Poetry Writing Prompts
Why do people write poetry?
What types of things can you express in poetry that are hard to express through other forms of writing?
Research several different forms of poetry. How can so many different types of writing all be considered a part of the same genre?
How do you define poetry? What has your experience with poetry been like?
Choose a poem that you like and analyze how the poet uses language in the poem to express emotions and ideas.
Write a poem about your daily routine.
Write a poem about what it's like to be _____ years old.
Write a poem about an issue that you and your friends struggle with.
Write a poem about a global issue that matters to you.
Write a poem about a quality that defines your family.
Write a poem that defines the concept of "identity."
Write a poem about relationships and the challenges they can present.
Write a poem about something your parents taught you.
Write a poem about your neighborhood.
Write a poem celebrating your favorite work of art.
Write a poem in honor of a person you admire.
Write a poem about your favorite holiday.
Write a poem about the passage of time.
Write a poem about your favorite thing in the world.

Write a poem about truth.
Write a poem about responsibility.
Write a poem about freedom.
Write a poem about America.
Write a poem about a time when someone hurt you.
Write a poem describing the feeling of joy.
Write a poem about your dreams for your future.
Write a poem about integrity.
Write a poem about poetry.
Write a poem about something that confuses you.
Write a poem about a historical event.
Write a poem about someone you love.
Write a poem about secrets.
Write a poem about memory.
I hope you enjoyed and found inspiration in this list of poetry prompts and poetry topics. Perhaps you will use them in your next lesson plan to spur the creativity of your writers.
---
A Lovely Poem Written by a Journal Buddies Reader
On a beautiful morning recently, I received the following email for a young reader of my blog. She wrote:
Hey Jill,

You make my life easier. Thank you for what you do. You have no idea how you have improved my life. I took one of your prompts into consideration and ended up writing a poem on Alarm Clocks. And just for fun, I submitted my poem to The Times Of India, to my astonishment, they actually published my poem in their Student Edition paper. I will look forward to writing more of your prompts. Again, thank you.

Onwards and Upwards,

Nandini
I can tell you that Nandini's sweet email warmed my heart and brought me great joy.
And…
I was curious, too, to read her poem and asked if she would share it with me.
To my great joy…
She said yes, and with her permission, here it is. Enjoy! (I sure did.)
A Poem…
THE ATYPICAL ARTEFACT
I wake up to wake you up,
always on time,
so that you never be late,
But you seem quiet dizzy,
you tend to shut me up,
But my ancestry doesn't allow me,
to just keep quite.
I energize myself again,
and buzz with a much louder voice.
And this time,
I witness a painful thrust,
from your hand,
And later find myself shattered.
But, I guess, life is all about,
getting up when you fall.
I pump myself again,
and this time I shout,
as hell!
My shout didn't go,
in vain,
you finally woke up!
And do you know,
when you wake up,
happiness fills me,
with a sense of accomplishment.
And then hibernation,
Pops into me so that,
I could save energy,
for next episode, the other day.
You might think that,
I am a bit weird,
But that's because of the treatment I get.
Sometimes I don't need to buzz at all,
And some days, I need to,
Shout my voice out.
I have seen everything,
Your sadness, happiness,
Stress, anxiety, disgust,
But I cry in melancholy,
As I cannot be a part of it.
I have seen you not sleep the whole night,
And not wake the whole day.
One of my salient features,
is to go silent,
Once you wake up.
I am either placed on a,
Dirty dusky table, or,
On your complacent cushioned bed.
I am designated as,
The Mighty Alarm Clock,
which helps you to accomplish your,
Morning Rituals.
I give you hope,
To start afresh,
I embellish your life,
I admit, not Mornings though.
When Life Calls You,
I Wake You Up.
~ By Nandini
---
Thanks for reading Nandini's poem and for visiting my blog. My heart is filled with joy because of her writing talent. I have no doubt she will do wonderful things in this world with her words (and beyond!).
Types of Poetry and Poetry Ideas to Inspire You
Looking for a specific type of poem suggestion or idea? Here are 9 wonderful ones for you:
Haiku. The haiku (or hokku) is an ancient form of Japanese poetry that has become very popular all over the world. …
Free verse. Free verse is a popular style of modern poetry, and as its name suggests there is a fair amount of freedom when it comes to writing a poem like this. …
Sonnet. …
Acrostic. …
Villanelle. …
Limerick. …
Ode. …
Elegy
Acrostic poem
See this article to learn more about each of these poetry writing ideas.
Lastly, and above all, I hope these ideas help to inspire some wonderful poetic ideas that help your students refine their creative writing and writing skills in general.
If you enjoyed these Poem Topics and Poetry Writing Prompts,
please share them on Facebook, Twitter, and/or Pinterest.
I appreciate it!
Sincerely,
Jill
journalbuddies.com
creator and curator
More Poetry Resources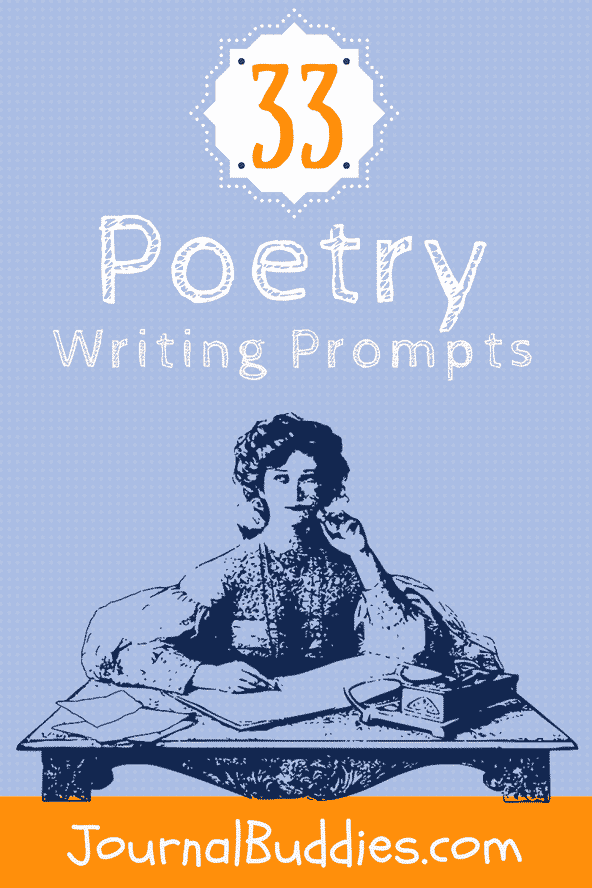 PS – we have tons more creative writing prompts to help beat writer's block!