Creative Writing about Food Prompts for Kids — Food! Who does not like to talk about their favorite or their not-so-favorite food? Food is an interesting topic and one that may just encourage and motivate kids to write some amazing new stories or journal entries. Now…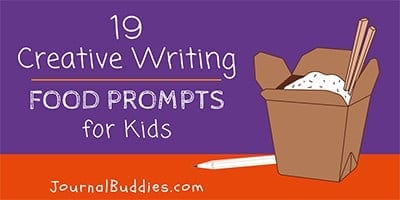 We know writers will find some great inspiration with these 19 writing ideas about food.
That's because fun and tasty writing prompts can help make creative writing more enjoyable for kids (and writers of all ages for that matter!).Plus, our list of food-themed writing topics and food writing prompts may make them hungry to boot!
So get to it and…
Encourage your writers to use the writing ideas outlined below to write a story, a poem, or a journal entry. Ask your writer to describe in great detail how the food they are writing about looks, smells, tastes (good or bad), feels (soft, hard), and sounds (sound of cubes in a glass or fizzy sounds of a drink).
19 Creative Writing about Food Prompts for Kids
Write about your favorite food. What is it? Where do you eat it? What makes it your favorite?
Describe the kind(s) of food you can cook — or food you enjoy cooking with your parents. Describe the way it is prepared and if your family members enjoy it.
Write about fruits. The yummy and colorful fruits that you like or even about the ones you dislike and why.
Invent your very own unique recipe.
What is your favorite sandwich? Explain how to make it starting from the bottom to the top layer.
Describe the worst meal you ever had in your life and try to include as many details as you can straight through to your last bite.
Talk about one of the most memorable meals you shared with your family (or relatives and or friends). Describe in detail where it was and what made that meal so enjoyable.

Write about your favorite restaurant and what exactly it is about it that makes it your favorite.
What are your very favorite and your least favorite fruit and vegetable? Why?
Imagine and write about: What if the movie "Cloudy with a Chance of Meatballs" became real?
Write all about your favorite dish that your mom or dad cooks. What ingredients are in it and what makes it your favorite?
Describe a trip to the supermarket. What kind of food do you find there? What would you buy? How much would you buy and why?
Get creative and plan a menu for your imaginary restaurant.
Do you love sweets? Which are your favorite desserts? Why?
Do you have any food-related family traditions? What are they and what makes them special to you and your family?
If you had to eat one food forever, what food would you choose and why?
You are making popsicles today… Which flavor(s) will you make? Who will you share them with and why?
Write a story with a potato as the superhero.
Ice-cream: chocolate, strawberry, or vanilla? Soft serve or hard ice cream? Describe your ice cream choices in vivid detail.
I hope you enjoyed these food writing topics.
163 More Fun Food Related Writing Ideas & Resources
Food Words and Phrases to Inspire You to Write
Now, in case the 19 food writing topics outlined above weren't enough to inspire you, here's a food item list of words to get you inspired to write about
Cheese
Comfort food
Pizza!
Food memories
Food as medicine
Soul food
Unhealthy foods
Healthy food
Street food
Childhood favorite food
Good food, bad food, yummy food, gross foods
Food is a subject that can be approached from many different angles.
A Few Final Food Thoughts
Whether you're interested in exploring the cultural significance of food and food traditions, the environmental impact of our food choices and lifestyle, the connection between junk food and obesity, or the nutritional implications of various diets, there's plenty of room to explore.
From food production, food safety, and the fast food industry to food poisoning, food security or insecurity, and hunger, food essay topics are a valuable resource for students exploring research papers, looking for new essay topics, or just writing about the love of food.
Plus…
Writing about food may inspire so-called picky eaters to try a new cuisine, inspire junk food junkies to adopt healthier eating habits, or encourage someone to continue on with their preference for healthy eating!
Food-themed writing prompts can take you on a delicious journey, with limitless possibilities. So, get your pen and paper ready and get cooking up some scrumptious stories!
We offer you loads of blog posts with thousands of free prompts. So be sure to stick around and check out more great writing ideas.
Until next time, write on…
If you enjoyed these Creative Writing Food Prompts for Kids,
please share them on Facebook, Twitter, and/or Pinterest.
I appreciate it!
Sincerely,
Jill
journalbuddies.com
creator and curator
PS Check out these excellent resource –> Tasty Creative Writing Prompts