Whether you're looking for a new way to keep your 4th-grade kids occupied on a rainy day or hoping to help your class branch out in their writing, journaling can be a wonderful tool to inspire and motivate kids to express their thoughts. Best of alll…
If you need some excellent ideas to inspire, we've got you covered with some awesome 4th Grade Journal Prompts.
You see…
This listing of journal prompt ideas ranges from the silly to the reflective, and from practical to the impossible. Plus, these prompts and journal starters are sure to help your fourth-grader develop an entirely new outlook on writing and the opportunities that journaling can bring.
Still…
Kids can be a tough audience and that's why we've provided a list of seventy-three great 4th-grade writing prompts.
These prompts are sure to help the wheels start turning and to brighten up any student's day.
Ok, without further ado, here are those exciting new journal starters for 4th-grade writers. Take a look now and enjoy!
73 Fabulous 4th Grade Journal Prompts to
Inspire and Ignite the Imagination
Finding an undiscovered planet
This year, I want to learn…
Hiking in the mountains
My favorite family tradition
My best friend is awesome because…
What my family does on the 4th of July
A list of things on my desk
What America means to me
One of my best memories
Would I rather be rich or famous?
Time capsules are…
Something I'd like to be better at
Climbing the world's largest tower
A secret garden
Finding a secret room in your house
Jumping on clouds
Diving undersea to find a hidden temple
Becoming a giant
Growing up with cousins
Taking an escalator to the moon
Underwater house
Having a food fight
Being in a video game
Race car driver
Making a new ice cream flavor
Exploring the pyramids
Do aliens exist?
Living on a farm
An epic game of hide and seek
Playing a professional sport
Life as a germ
Playing instruments
Being a rock singer
Write a letter to a pen-pal
If I could live in any state
If I could have any pet
The best compliment I ever received…
My favorite book
Television is…
Cooking with family
Someday, I want to be ________
If I could live in any time in history, I would choose ________
My favorite toy when I was younger
What 5 things would I want if I was stranded on a desert island?
I felt grown-up, when ______________
Brothers/sisters are important because…
If I could trade places with anyone for a day
The best April fool's joke I ever played
A perfect day
My favorite month of the year
Walking on the ceiling
My favorite pair of shoes
Finding buried treasure
If dinosaurs still existed
My greatest talent
What if there were only 18 hours in a day?
Something that embarrasses me is…
The best restaurant I've ever been to
I like living in [city], because…
The most important thing I ever learned
If I were the principal, I would _______
Can wishes come true?
People who I couldn't live without
My favorite thing in my bedroom
A list of states or countries I've been to
What would grow in my garden?
A day in the life of a superhero
Rules are important because…
If I were a color, I would be _______
My favorite thing about myself
I think tests are important/unimportant because…
Staying home alone
The best teacher I ever had
I hope that this listing of 4th-grade writing prompts was inspiring and useful to you and your students, children, and kids.
Next, take a look at these…
BONUS: 11 Expository Writing Prompts for 4th Graders
Describe how things will be different for you in middle school when you have a locker to put your things in. What will you put in your locker? Will you decorate it in any way?
Explain the rules and requirements at your new middle school and where they differ from your current school.
Think about the homework you have in the 4th grade and explain how homework might differ in middle school.
When you enter middle school, describe some ways that you can go about making new friends.
Define the characteristics that make a good friend.
Explain several ways that you might handle someone who is trying to bully you.
Define what being a good listener means to you, and explain ways you can be a good listener in your new middle school environment.
Define the term "time management" and describe ways you can make use of it in middle school.
Describe how you believe you have matured in the past year.
Mistakes are not all bad if you learn from them. Think of a mistake you've made and explain what lesson you learned from it.
Define the term "dress code" and explain why a school might have a dress code.
Now, if your 4th-grade students need even more inspiration, check out these…
4th Grade Writing Prompts & Resources
For even more ideas, see…
The Favorites List of Writing Ideas
In addition to the list of fourth grade writing prompts above, I have this excellent and simple list of journal topics for you to use in your lesson plans and classroom instruction. You see…
For those reluctant writers or non-writers, I suggest you use the time-tested favorite writing prompts. They are simple ideas that nearly every writer can answer without much effort. Plus, they are an excellent way to get those creative writing juices flowing for writers of all skill levels.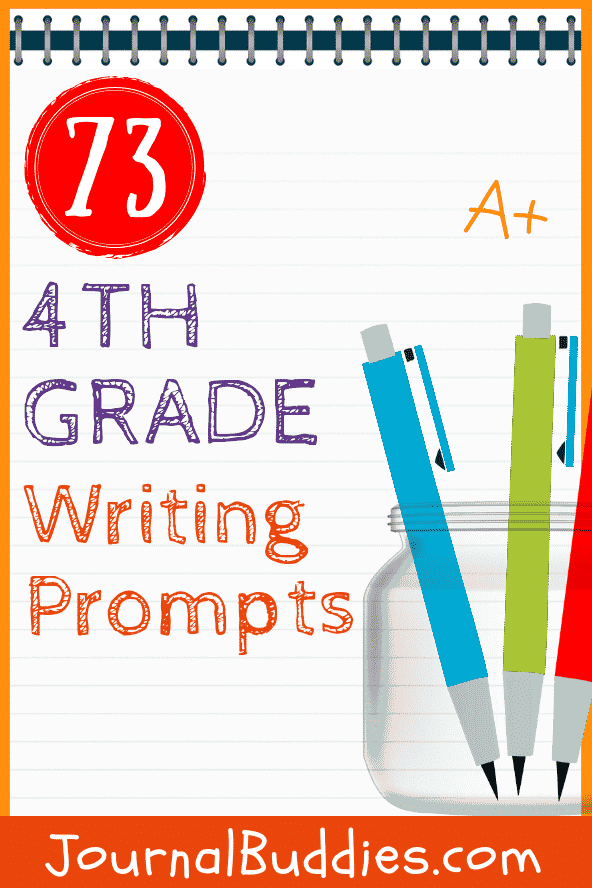 Have students write about their:
Favorite foods
Favorite place
Favorite book
Favorite toy
Favorite season
Favorite movie
Favorite animal
Favorite pet
Favorite board game or favorite game
Favorite vacation
Use any of these ideas for daily journaling and to improve your learner's writing skills.
Some of the Awesome Benefits of Journaling
Journaling has many benefits for both children and adults, and the simple act of writing is a powerful way to express feelings, new ideas, and to instill creativity. Writing daily can translate into encouraging kids to find innovative ways of thinking, and will excite them endlessly with the prospect of possibility.
Here are a few brief points about the fabulous benefits of journaling. Check this out! Journal writing can help students:
Clarify their thoughts and feelings
Know themselves better
Reduce stress
Solve problems more effectively
Resolve disagreements with others
Those are some amazing journal keeping benefits if you ask me. I hope you agree. Above all, I hope your fourth grade students agree.
Ok, tht's all for today.
Happy journaling and writing to you! Until next time, write on…
If you enjoyed these 4th Grade Journal Writing Prompts,
please share them on Facebook, Twitter, and/or Pinterest.
I appreciate it!
Sincerely,
Jill
journalbuddies.com
creator and curator