You have just discovered a prompt generator that offers you 800+ absolutely free writing ideas. Best of all, these essay and journal prompt ideas are all human written – no AI here! So take a look now and enjoy.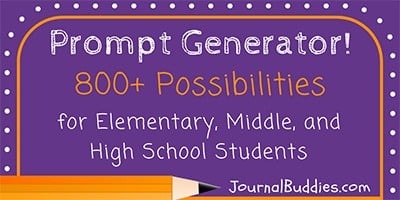 Yes! That's right. Here you'll easily find inspiration and fabulous writing ideas with our prompt generator.
Show Me the Prompts Generator! Here it is. Tap the button for ideas and then…
tap again, and again, and again. I know you'll be glad you did!
Oh, and above all, have loads of fun and write on…
You'll See Ideas Like These — And MORE — with our Prompt Generator
It's true… when you use the prompt generator tool, you will find writing ideas like those listed below (and more).
Write a story about your pet taking an adventure after you've left the house.
What is your favorite carnival ride?
Have you ever flown on an airplane? What was it like?
Why do countries go to war?
How do you feel when the leaves change?
If you were a professional singer, what genre would you sing?
Have you ever had a scary dream and laughed about it later?
Write a poem about fall.
What was your favorite toy as a kid?
If you could be a dinosaur, which kind would you be?
What is your favorite thing to do outside?
Write about a memory that makes you happy.
How can you give back to your community?
What would it be like to live on the moon?
Do you prefer chess or checkers?
How does it feel to miss someone or something?
Write about the best party you've ever been to.
What is life all about?
If you could visit any single new city in the world, where would you go?
What is your favorite household chore?
Would you rather visit a mountain or a beach?
Write about a secret that you've never shared.
What is the best feeling in the world?
What is the worst feeling in the world?
If you could take any three celebrities to lunch, who would you choose? Where would you eat?
What is something that you always have with you?
Who do you trust more than anyone else?
(See the full list of creative writing prompts)
Our Prompt Generator Tool Offers You 800+ Fabulous Ideas
There are ideas for Elementary, Middle, and High School Students included in the prompts generator.
Looking for a fabulous prompt generator? Well, I have exciting news! You need writing ideas to share with your students. And, I am obsessed with sharing them online for free.
That's what I call a Win-Win partnership. But what's better than a win-win? A Win-Win-Win! That's how our new writing prompt generator tool came to be. It was made in partnership between a fellow blogger and me in order to give you a prompt generator to use with your kids. Whooohoooooo!!
Yes, it's true. This prompt generator tool was made especially for you.
So again, ahead and try it out… I hope you love it!
Yeppers… You'll easily find fabulous writing ideas with our prompt generator.
A Little More About Our Prompt Generator Tool
The writing ideas available to you in our new prompt generator are for Elementary, Middle, or High School Students.
The ideas are broken down into four categories:
Writing Topics
Journaling
Creative Writing
Story Starters
There are 800+ prompts in this tool. If you need more ideas, we offer over thousands of them here on journalbuddies.com. There's a search box in the upper right-hand corner you can use to find prompts for a certain grade level, topic, or theme.

Oh, and we also offer you a Short Story Ideas Generator + 10 New Prompts. Enjoy!
Prompt Idea Links & Resources
Here are some links to even more writing ideas for you to use with your kids, students, and creative writers. From fiction writing to poetry, there is something here for everyone to enhance their writing skills and writing practice. Oh, and the ideas are human created (not AI).
From the resources and links above and the thousands of free writing ideas and creative journal prompts are available to you on my blog, I hope you can tell how much I love writing ideas. I love sharing them with teachers, educators, homeschoolers, writing enthusiasts, and everyone in need of an idea to spark their next writing project or assignment.
So bookmark this blog and use the prompts ideas on it. Truly, writer's block will never be an issue for you if you do!
All the prompt are free for you to use (in non-money making endeavors), but I do ask that you give my site credit if you use our prompts in your classroom or homeschooling, or if you share them online or elsewhere. Thank you so much. I appreciate it!
Until next time, write on…
If you enjoyed this Prompt Generator,
please share it on social media Facebook, Twitter, Pinterest, TikTok or elsewhere.
I appreciate it!
Sincerely,
Jill
journalbuddies.com
creator and curator
PS Looking for story ideas? Discover —> 4 Story Ideas Generators <—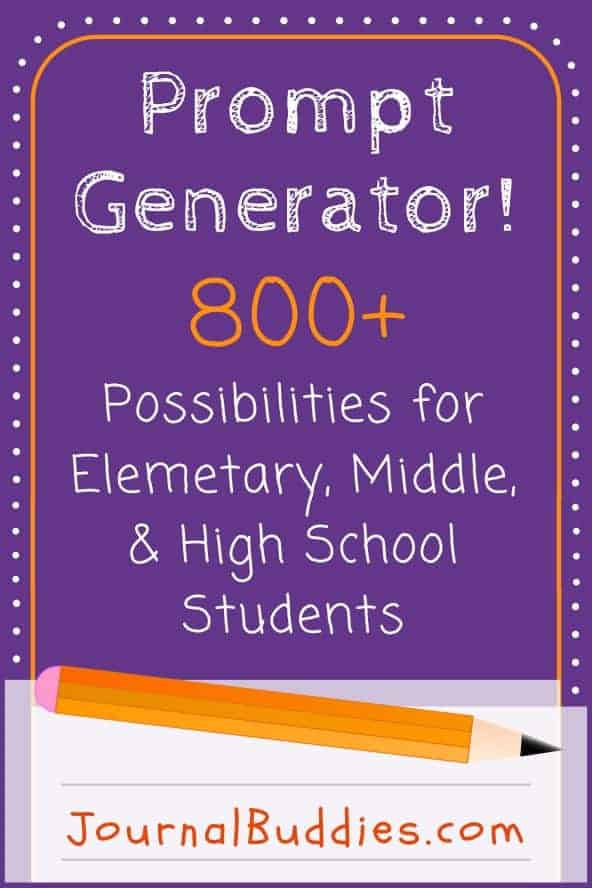 PS Check out this article on how to write a perfect essay from National Geographic for kids.