Fall-Themed Writing Prompt Lists of Ideas for Kids, Students, and Writers of All Ages— When the leaves begin to change and the nights begin to get a little cooler, it's clear that autumn is on the way. Now, we think that journaling — or writing of any sort — about fall is a great way to celebrate the change in seasons and that means it's time to break out the fall writing prompts. Take a look and enjoy.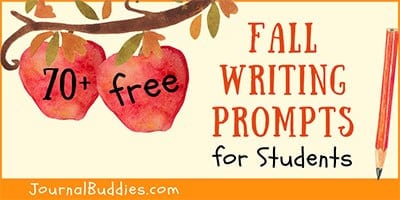 You see, from young students to older students, I have some wonderfully fun fall writing prompts about a variety of fall themes for you to use in your classroom with your students.
Yes!
Oh and this post on fall writing is newly updated and offers you three fall prompt lists. This means you'll see fall writing prompts listed by grade level as well as the original list of 30 fall journal prompts for kids.
Plus… This newly EXPANDED and fun list of fall writing prompts is easier to navigate and will better help you and your students (in various grade levels) get in the spirit of autumn.
Fall-Themed Writing with Students
Fall may not always seem like the most exciting season to kids—especially when compared with summer's time away from school and winter's snow and holiday breaks.
Still…
Once students get into the season and begin to remember all the wonderful things that autumn brings such as pumpkin pie, Halloween costumes, and jumping into piles of leaves, there's no doubt that they'll be excited to celebrate the coming months.
Autumn is a beautiful season and a great time of the year to encourage your kids to engage their imaginations while improving their writing skills with some fabulous fall writing prompts.
Now, let's briefly explore…
A Bit About Our Fabulous Fall Journal Prompts and Writing Ideas
With fall writing prompts and topics ranging from fall's best scents and tasty autumn treats to what animals do to prepare for the winter, your students will quickly see that fall has so many wonderful things to offer.
Now as your kids think about the fun holidays coming up and all the new activities they can do outside in the cooler weather, they'll undoubtedly come up with plenty of reasons to declare autumn as their new favorite season.
So get to it and use the autumn writing prompts listed below to help your class prepare for fall and all of the festive memories that come along with it.
24 NEW Fall-Themed Writing Prompts for 1st, 2nd, 3rd, and 4th Grade
Fall writing is a fun way to get elementary-age students engaged in their writing practice. Check out these fabulous fall writing prompts now and enjoy.
Fall is my favorite time of year because…
Fall leaves make me think/feel…
I love all the beautiful colors of fall because… and my favorite fall color is…
My all-time favorite thing about fall…
I think/feel fall is the best time of year because…
What I am looking forward to this fall is…
Write a short story about a pumpkin that is any other shape but round.
Describe your clothing as if you were a scarecrow.
Do you celebrate Halloween? What will you do to celebrate the holiday?
My favorite Halloween candy is ________ because…
Write about your family's fall traditions (or your friends, school, church…)
Write about an animal that is preparing this fall for hibernation in the winter.

Write a poem or song about the autumn harvest.
What do you think makes fall so special (or not so special)?
I don't really like fall because…
What is your favorite fall craft project to do (or that you have done)?
Do you look forward to the fall season? Why or why not?
Write about your favorite fall food (or your least favorite).
What is your favorite thing about going back to school in the fall?
What is your least favorite thing about going back to school?
Have you ever been on a hayride? Did you like it? Why or why not?
Write a funny story about a fall activity, such as playing in leaves, picking apples, going on a hayride, exploring a corn maze…
Write about your least favorite fall activity such as going back to school, raking leaves…
What changes in the weather tell you that fall is coming?
21 NEW Middle School Fall Writing Prompts
Fall is in the air and it's time to trade in your shorts, t-shirts, beach balls, and flip-flops for warm clothes, jackets, apples, leaves, and pumpkins. Use these writing prompts today to get your students writing in gear and get them into the spirit of fall. (This list of fall writing prompts was written especially for students in 5th, 6th, 7th, and 8th grade and up).
Write a short story about a group of friends who get lost in a corn maze.
Compare and contrast apple cider and hot chocolate. Which is your favorite?
Do you help cook Thanksgiving dinner? What foods does your family serve?
Write a short story from the point of view of a candy corn shaped cookie that is about to be eaten.
Write a haiku about the fall.
Write about your favorite autumn activity. (Maybe even write an acrostic poem about it.)
Write about your least favorite autumn activity.
Write a one-page story about going to a haunted pumpkin patch with your friends and family.
Write a short story, song, or poem about your favorite fall activity.
Write a short story, song, or poem about your favorite season.
What autumn activities do you look forward to the most and why?

Have you experienced the first frost of the season? If so, explain your experience. If not, makeup what you think it would be like to experience it.
Write a short story about a tree and how it changes during the fall (leaf color change, falling off…)
Expand your tree story further by going into detail about how it prepares for winter in order to thrive in the spring.
Explain the process of raking leaves to someone who has never seen leaves fall off of trees or had to rake them up.
Write about one of your favorite fall foods.
Write about one thing you're looking forward to this fall
Write about your most memorable autumn memory.
How do you feel about going back to school in the fall?
What are some things that you want to accomplish this fall? This new school year?
Have you planned your Halloween costume and if so, what is it? If not, why not?
30 Fall Writing Prompts for Kids ORIGINAL List
This is the original list first published in this post and is fabulous, in my view because…
All age learners including middle school and high school students will enjoy this list of fall writing prompts. (Actually, I think adult writers would find inspiration here, too.) A quick tip: Modify these ideas if needed to better suit the age of your students and/or writers.
When you step outside during the fall, what do you see? What do you hear? What do you taste? Smell? Feel?

What is your favorite fall holiday? What do you like about it?

Make a list of 10 words that remind you of the fall. Then, pick one of the words and write a story about it.

Why is this season called both "fall" and "autumn"? Which do you prefer? Why?

Do you enjoy fall? Why or why not? How much do you like fall compared to other seasons?

Does the fact that there are fewer hours of daylight each day during the fall affect you very much? Why or why not? Does your family adjust your typical schedule at all?

Write a poem that describes the sound leaves make when you step on them.

Write about your favorite food or drink to enjoy during the fall. What makes this such a special autumn treat?

What is your favorite thing about autumn weather? Why?

Write about a time when you got to witness an animal that was preparing for colder weather to arrive. What did the animal do? How could you tell it was getting ready for winter?

Do you like getting to see the seasons change regularly throughout the year? Why or why not?

Write a short story about an autumn leaf that hasn't fallen from its tree just yet.

Think of three things you can do during the fall to help people in your community who are less fortunate than you and who may be struggling to stay warm or to combat hunger. Choose one and write out an action plan that details how our class could help the people in need.

What fun activities can you do outside during the fall that are hard to do during any other season? Which one do you like most? Why?

Imagine that you have to explain to a younger student why the leaves change color during the fall. What would you tell him or her?

If you could see leaves in any other color besides green, orange, yellow, and red, which would you choose? Purple leaves? Blue leaves? Sparkly leaves? Striped leaves?

W

hat would your neighborhood look like?
Imagine that you've been invited to judge a local pie contest. What qualities would you look for in the winning pie? How would you declare a winner?

Many people associate particular scents with autumn. Are there any smells that always make you think of the fall, such as apples, cinnamon, or pumpkin? Write about how a certain scent makes you feel.



Write about your favorite memory from the fall. Who were you with? What happened? Why does this particular instance stick out in your mind?

Besides the leaves changing colors and falling from the trees, what other changes do you notice taking place when you look outside? Does the air feel different during the fall? Spend some time outside and record what you notice.

When does it officially begin to feel like fall? How do you feel during this time?

What do you think of Daylight Savings Time? Should we really set our clocks back an hour each fall or would it be easier to get accustomed to fewer hours of daylight? Why?

Write a story about the world's largest pumpkin. Where does it grow? Who takes care of it? What will eventually happen to it when it stops growing?

Fall is often a season filled with gratitude and reflection, as people prepare for Thanksgiving and the holiday season. What do you feel thankful for this autumn?

What is your favorite way to bundle up and stay warm on a cold autumn day?

Write a poem about what the sky looks like during the autumn.

Fall is a great time for sports fans to enjoy their favorite games outdoors, as baseball season wraps up and football season kicks off. What is your favorite sport to watch or play during the fall? Why?

What is your favorite way to spend an autumn afternoon? Describe how you like to enjoy your free time during the fall, paying specific attention to what you can see, smell, and hear.

Go outside for 10 minutes and record everything you see. Then, go through your list and note which things you would only see during the fall and which things you could see year-round. Write three paragraphs about one of the things you would only see in the fall.

Write a story about a class trip to visit a mysterious pumpkin patch.
I hope you enjoyed our lists of fall writing prompts for elementary and middle school students, and the fabulous list of 30 fall-themed creative writing prompts.
A Few Final Thoughts
Fall is a time of change. The leaves turn colors, the air cools, and the days grow shorter.
Plus… the Fall season is also back-to-school time. And fun, creative fall writing prompts can help get students more engaged in and excited about writing. There are so many benefits of supporting your students' writing skill development, including:
Expanding students' creativity
Encouraging imagination
Introducing new vocabulary words
Practicing fluency with language use and so much more…
Wow, I think that is an impressive list, and hope you agree.
In the blog post, I've shared with you a wide variety of fall writing prompts to help your students get their creative juices flowing, and I hope the fall writing prompts you've found here inspire your kids to have lots of fall writing fun. And now, if you need other writing ideas, check out these resources for more ideas.
More Seasonal Writing Ideas for Kids
Until next time, write on…
If you enjoyed these Fall Writing Prompts for Kids,
please share them on Facebook, Twitter, and/or Pinterest.
I appreciate it!
Sincerely,
Jill
journalbuddies.com
creator and curator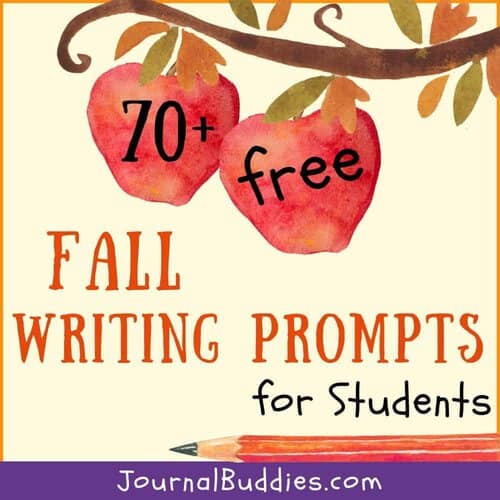 PS – check out these Free Printable Fall Worksheets (great teaching resources to pair with all our fabulous fall writing prompts!)
---
From the archives—
---
Oh, how time flies…summer is gone and fall is upon us. With the bold colors, fun holidays, and the excitement of back to school, fall is the perfect time of year to draw inspiration in your writing. Being outdoors and savoring nature are sure to get your creative writing juices flowing!
In these prompts, you're encouraged to immerse yourself in the season by taking notice of your surroundings and all of the exciting changes. You can still fire up your writing if you're not an autumn fan by comparing and contrasting fall with your favorite season.
Take your writing outside with one or all of these exciting journal topics and explore the wonders of the change of seasons!
Happy fall and happy writing!
Three BONUS Fall Writing Ideas
Fall Journaling Topic # 1:
What are your favorite things about autumn? Write about them in detail. Some of my favorite things about fall are the leaves, the cool evenings, pumpkins, and gourds.
If you don't like autumn, write about that. Describe what it is that you don't like, how fall makes you feel, and what your favorite season is and why.

Fall Writing Topic # 2:
Spend some time outside in nature. Look around and notice the unique aspects of fall that surround you. You may notice an abundance of acorns and seeds, a leaf floating through the air, a squirrel busily preparing for winter, or a flower displaying its final blooms for the year.
Record your observations in your journal. Write or draw about your observations, just let your mind open and document what flows from your mind to your hand. Breathe easily and enjoy the writing process.
Fall Topic # 3:
Choose one item or subject from your observations as outlined in #1 and #2. Let the item tell you a story. What is its purpose? How is it unique? What makes it so wonderful, neat, or special? Does it have any fears, concerns, or worries? Does it have any advice or wisdom to share with you? How can it add value to your life? What would this world be like without it?
These are just a few of the questions your creative brain may be able to answer for you. Keep an open mind and really let your chosen subject speak to you — you might just be surprised by what it has to say and what it'll teach you!
I hope you enjoyed these writing ideas and fall writing prompts, but more so I hope you use and enjoy them. Happy fall to you and happy journaling, too.
Until next time, write on…