Fun, enjoyable Random Topics and random things to write about for you and your writers — Yep, it's true that random things can make for some very interesting story writing ideas. And, lucky for you…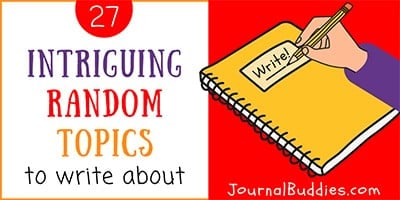 You'll find a list of goofy, weird, serious, and funny random topics listed below that will hopefully tickle your or your student's imaginations.
Of course, if you work with student writers, you should know that, in our opinion, these topics are probably best suited for high school-aged writers, and up. (Still, younger writers can use these topics, too. They just may need to be a bit more advanced in their writing skills abilities.)
Now, go for it, and use our intriguing list of random topics in this brand-new blog post. I think writers will have a super fun time with this list of ideas.
27 Serious, Goofy, and Overall Random Topics to Write About
I hope you use and enjoy these fabulous ideas.
Create a world where all planets are habitable and represent a class system.
Set your story inside a rain puddle, making its microscopic contaminants your characters.
Start your story with the line, "It started with a suitcase, an escalator banning suitcases, and a pair of unsuspecting legs."
Think about the worst evening of your life and fictionalize it by writing what you wish would've happened.
Your character has the superpower that enables them to be a fly on the wall. How do they use it?
Write about a character who returns after going missing for 20 years.
Start your story by killing off the main character and letting them narrate how it happened.
It's been 30 years since the nuclear war and everyone lives in underground bunkers.
You're given one chance to time travel. Where in the past or future do you choose to travel and why?
Write a re-imagination of the Boston Tea Party depicting an actual tea party between the people involved instead of a protest.
Write a horror story about someone buying a haunted oil painting on eBay.
Write about a character whose dreams turn into nightmares in the real world.
You wake up to find yourself in Jane Austen's Pride and Prejudice. What do you change about the story?
Write about a person who receives a terrible diagnosis after having experienced the best day of their life.
The world is underwater. How do humans evolve to survive it?
Write a story surrounding the only two survivors of a plane crash.

You're at an airport in a foreign country and have just lost your passport and boarding pass, and you have a 10-hour layover. What do you do?
Write about an author with writer's block who ends up stealing fan-fiction to meet a deadline.
Create a world made of humans and Pokémon.
Write a story about finding the right person at the wrong time.
Take an artistic spin on the personal life of your favorite celebrity, actor, or influencer.
Write about a character who looks like a celebrity and agrees to replace them after they disappear.
Create a scenario where a single lie breeds a mountain of lies and that leads to catastrophic results.
You've traveled back to a pivotal point in your past. What do you do differently?
Center your story around the thoughts and actions of a person from the future who has three days to stop the…
Create a story about an exchange student with a dark secret.
Who would be at the top of the food chain if humans didn't exist? Re-imagine a world where your chosen animal reigns supreme.
I hope you enjoyed our list of random topics to write about and found them inspiring.
Random Topics Make for Interesting Topics
We all know that every story has to start somewhere yet sometimes we need some help getting started. Wonderfully, you now have 27 great random topics to write right at your fingertips. You see…
These fun and fabulous random topics to write about will you help start your next great story and find your creative muse.
Hopefully, you will go for it and use this list of random topics to write about to help you — or your students — start that next, fabulous creative writing story.
Student Creative Writing Insights
Creative writing is wonderful for many reasons. Above all, it's liberating because it doesn't have any official rules. However, writers such as Kurt Vonnegut do offer some suggested rules for writing in this genre.
Still…
Your students don't have to follow a set structure, stick to simple tenses, cite their statements, or summarize their findings as they do for a school paper or essay, which is a very good thing.
Indeed, they are crafting a piece of fiction and doing so creatively which means, as the author, they have full control over all aspects of the story's unfolding.
So…
It's entirely possible that your writer may never even give their story a "proper" ending. Instead, they might end it on a cliffhanger or give the story an open ending because, after all, they're creating a world that doesn't exist.
That said, even an off-the-rails story needs to start somewhere. Now, not all writers have what it takes to create something out of nothing. That's why, as an educator, you may choose to give your students a list of random topics to help them ignite their story-writing thought processes.
Ok, let's explore…
4 Fabulous Ways to Support Your Student Writers' Development
To support their creative writing explorations, some wonderful things you can do include:
Encourage their writing aspirations by cheering them on
Offer new ideas to improve the overall interest and engagement of their story
Share your valuable insight on ways to make their story even better, and
Help them overcome writer's block should they experience it.
For those who need even more random things to write or talk about, check out this…
List of Questions About 17 Random Favorite Things
Here are some fun question ideas to write about that are especially useful for a writing warmup activity. Yes! These random questions are simple yet useful writing ideas to help fire up those creative ideas. Perhaps these random topics will even spark a fabulous new story idea!
Favorite foods
Favorite movies (or last movie)
Favorite TV show
Favorite restaurant
Favorite character
Favorite novel
Favorite toy
Favorite season
Favorite activity
Favorite holiday
Favorite pet
Favorite place
Hobby
Actors
Singer
Role models
Musical instrument
Now that's quite a list of writing topics. Oh, and you can re-use a topic by writing about it from a different angle, so keep that in mind as well.
A Few Final Thoughts
From writing short stories to your next journal entry,, just know that you'll never run out of random topics to get writing inspiration for yourself or to share with your writers. That's because here on Journal Buddies there are thousands of free writing prompt ideas for you to use.
From random topics to write about, to prompts for just about every genre, you'll always have something to spark your or your student's imagination and get to their writing juices flowing, and hopefully loving it, too.
"Random" Links and Resources
Ok, grab those pens, pencils, paper, or cellphone, computer or table and get to writing now. I know you'll be glad you did.
Until next time, write on…
f you enjoyed these Random Topics to Write About,
please share them on social media via TikTok, Instagram, Facebook, Twitter, and/or Pinterest.
I appreciate it!
Sincerely,
Jill
journalbuddies.com
creator and curator