Are you looking to enhance your classroom curriculum this year with innovative journal writing topics? It is easier than you think. Simply enjoy exploring and using the exciting things to write about in a journal ideas listed below. We are sure you'll be glad you did.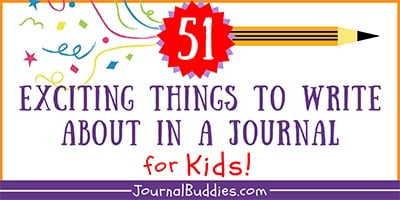 Let's get to it…
Any Kind of Journal is a Good Thing!
For many students, putting pen or pencil to paper and journaling is their favorite time of the day.
While students across all grade levels enjoy having a few moments of peace and quiet to collect their thoughts and express their creativity, they often do not know where or how to get started. I think we can all agree that staring at blank pages is no fun and does not make for the best time.
This is precisely why…
It is important for teachers to have plenty of journal ideas and inspiration to rev up the creativity flow for their students.
Far too many teachers have heard (all too often!), one of their students claim that they have "nothing" to write about and there is "nothing" new to say.
However, teachers know that there are endless things to write about in a journal.
To Keep a Journal is…
Teachers in every subject area will find that writing in a journal is an effective complement to their current curriculum. Further, daily writing in a notebook, diary, or journal is a practice that benefits students both personally and academically.
So…
Before students begin the lesson of the day…
A daily journaling habit gives them a regular outlet for their worries, anxiety, thoughts, any negativity and/or emotions, OR…
They could practice gratitude journaling or use their creative journal as a place to record a beautiful thing or accomplishments in their life that they want to celebrate.
Indeed…
Sometimes all it takes to lift one's mood or shift their focus to even more positivity is a gentle nudge. And, an excellent journal topic idea to get them writing in the first place may just be the thing to get them to love the art of journaling.
Ok, let's get to those things to write about in a journal we promised you. Here they are. Enjoy!
51 Things to Write About in a Journal
The following writing ideas range from creative story starters to responses to current events and news articles. Through journaling, students can explore different styles of writing while also developing their own arguments and ideas.
I am the one who…
My first memory is…
My wildest dream vacation is…
If I were in the circus I would be…
I believe…
Describe a person you admire.
I can…
Sunshine makes me feel…
The most amazing thing I've ever seen is…
I'm thankful for…
What do you want the most out of life?
What are the characteristics of a hero?
What do you think of people who use profanity in public?
If I were famous, I would…
I wish I were there when…
If I were a fish in the ocean…
My favorite places.
My least favorite places.
How a puppy feels.
My ideal day is…
Is it better to give or to receive?
If I had three wishes I would…

My most embarrassing moment is (or would be)…
Where would I go in a time machine?
Describe a rainstorm from above the storm clouds.
Write from the perspective of a mouse going down a hole.
Describe a rainbow to a blind person and do it so that the blind person can say without a doubt that they have SEEN a rainbow!!!
What was your favorite meal?
What does snow feel like?
What does squishing sand through your toes feel like?
Write a letter to yourself 1, 3, 5, 10, or 20 years from now.
Write a letter to yourself as a child of ___ years old.
Write a thank you letter to your favorite teacher.
If I could be anything in this world, I'd be…
If I could be anywhere in the entire UNIVERSE, I'd be…
Write about the taste of peanut butter, how it smells, and how it looks.
How would you feel as a passenger in a spaceship on the way to the Moon?
How can you make friends?
How do you keep your teachers happy?
Describe Sundays at your house.
Observe at least 5 things you see happen on your way home from school/work and write about them.
Describe a place from your past.
Describe your concept of luxury.
Describe a family member.
Describe sloppy.
Describe your ride home.
Nothing can be worse than…
Write about your strengths and weaknesses.
Describe the most comfortable spot you can find.
The problem is___. And this is what I plan to do about it…
The joy of today is…
Even More Free Writing Prompts & Resources for You
The Favorites List
For those reluctant writers or non-writers, we suggest you use the time-tested favorite writing prompts. They are simple ideas that nearly every writer can answer without much effort. Plus, they are an excellent way to get those creative juices flowing for writers of all skill levels.
Have your writers pick one thing from the list and get started writing. Then pick another and another…
Favorite foods
Favorite movies
Favorite character
Favorite thing
Favorite memory
Favorite books
Favorite toy
Favorite season
Favorite movie
Favorite holiday
Favorite pet
Favorite place
Favorite songs
Favorite quote
Fav childhood memory
Turn this list on its head and write about your least favorite instead!
A Few Closing Thoughts
Writers of all ages often need some help in the form of journaling prompts and ideas to help get them started. Young journal writers in particular often enjoy writing about fun, exciting, new prompts.
If you were in need of some fresh journal writing prompts, topics, and ideas for your young writers, we hope you found some good ideas in this prompt list!
Whether your kids have written one journal entry or 100 journal entries, a journal practice can have a positive impact on their lives. Moreover, journaling and expressive writing have many positive benefits and are an excellent means of self-expression and self-discovery. So, get and keep your kids in a daily routine of journaling this school year.
Until next time, may your students journal on…
If you enjoyed these 51 Exciting Things to Write About in a Journal,
please share them on social media via Facebook, Twitter, Instagram, TikTok and/or Pinterest.
I appreciate it!
Sincerely,
Jill
journalbuddies.com
creator and curator