How to develop writing skills in students (15 Prompts and 5 Tips)
Learning to write is an essential part of a student's education. The skills students learn while they're young will be with them for a lifetime.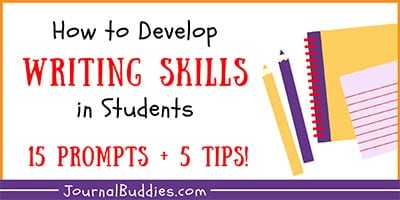 Writing offers a critical form of communication and is used in so many parts of our lives. From succeeding in school to excelling on the job, writing is a skill that children will continue to use as they grow older, which is why building a solid writing foundation now will help them later in life.
Below, we offer you a list of 15 writing prompts to help develop writing skills in your students. Plus, as you scroll down the page, you'll also discover 5 tips to support them even more in their writing skill development. We hope you enjoy these helpful writing resources!
How to Develop Writing Skills in Students
15 Helpful Writing Prompts
Write about your favorite holiday. Why is it your favorite?
Write down your earliest memory and draw pictures to go with it.
Write about what your dream house would look like.
Write about the funniest thing you've ever seen happen.
What are your three favorite foods?
Make a list of the activities you like the most during (spring/summer/fall/winter).
Who is your biggest hero? Why? And draw a picture of them.

Write a short story about a funny pet.
Write a short story about your favorite toy and what it does while you're at school.
What is your favorite season of the year? Why did you pick that one?
Who is your favorite person in the world? Why do you love them?
Draw a picture and tell a story about that picture.
What superpower would you like to have? Why?
If you were in charge of the world, what would you do?
What is your favorite animal? Why do you like that animal?
If you had three wishes, what would you wish for?
5 Tips on Developing Student Writing Skills
Looking for tips and advice on how to develop writing skills in students? We're here to help. We've put together a list of tips and ideas that you can use with your students. When you use these suggestions, you'll keep your students engaged as they practice their writing skills. Plus, you'll ensure they don't become bored.
How to Develop Writing Skills in Students Tip #1 – Show Kids the Importance of Writing
First, it's vital to show kids the importance of writing. You can be sure that some kids will question why they even need to learn this skill. Start by modeling the importance of writing. Write in front of your students. Read what you're writing aloud to make it even more powerful.
Talk to children about how writing is used in important ways. Maybe explain that our country was started by men who wrote down how they felt the country should be run. You could talk about stories that have been written down that have now been told for decades or centuries.
Don't forget to talk to them about the simple, daily uses of writing, such as writing a letter, writing for a test, or writing to communicate thoughts on the job. Students need to see that writing is an important skill that's used on a daily basis, so they understand why it's so critical to master this skill.
Tip #2 – Supply Students with the Proper Writing Tools
Supply your students with the proper writing tools. They'll need writing paper appropriate to their age, which may range from paper with traceable letters to wide lined paper to medium lined options. If you find it's difficult to find age-appropriate paper locally, you'll find many excellent resources online.
They'll also need pens, pencils, or markers for writing. Kids often enjoy having a "special" writing tool that they use when practicing their writing. Making choosing a writing tool fun, and let students know how important they are because they allow them to communicate their thoughts.
It's also a great idea to leave pencils, markers, pens, crayons, and paper around so kids have the chance to write whenever they feel creative. Allow students to scribble, draw, and write whenever they want to, or ask them to write and draw about their daily activities. Since we live in the age of technology, you want to encourage children to become accustomed to writing things down.
Tip #3 – Encourage Children to Write
Wondering how to develop writing skills in students? One of the best things you can do is just encourage them to write, write, write. Urge them to write when they're sad, when they're happy, or when they can't figure out how they're feeling. Have them write their name, come up with funny stories, and then let them read to you what they wrote.
At this stage, avoid correcting younger children on their mistakes. The goal is to encourage them to develop their writing skills, not make them feel bad about what they're writing. There will be time to hone their skills later, but right now, give them positive feedback and encourage them to continue writing as much as possible.
Tip #4 – Make it Fun and Exciting
When teaching students any skill, it's essential to keep it fun and exciting. You must keep them engaged and interested. Make writing fun by playing games that involve writing, such as scrabble, hangman, or word searches. You can also encourage students to write fun stories while drawing pictures to go along with it.
Developing writing skills doesn't need to be – and shouldn't be – boring for kids. Make it wildly exciting and fun, and you'll be surprised at how fast they learn.
How to Develop Writing Skills in Students Tip #5 – Reward Your Students' Efforts
Validate your students' efforts by rewarding them when they do an excellent job. Maybe kids get to pick a special prize or the entire class gets a fun little party when they all work hard on their writing skills. Even a new set of pencils or crayons makes a great reward.
Remember, the key to developing writing skills in students is to make it engaging and fun while ensuring they practice as much as possible. They'll have a great time, and together you'll be building a skill that will last a lifetime.
Links & Resources
Until next time, write on…
If you enjoyed these Prompts and Tips to Help Develop Writing Skills in Students,
please share them on Facebook, Twitter, and/or Pinterest.
I appreciate it!
Sincerely,
Jill
journalbuddies.com
creator and curator