Welcome! Here you'll see 15 fabulous first day of school writing activities — This list of ideas is packed full of fun and engaging ways to interact with the new group of kids in your classroom. Plus, you'll find nine first day of school writing ideas, twelve new school year resolutions, 8 ice breakers, and 5 school success tips. Oh yeah…
You'll find loads of good stuff here for you and your students. Here's wishing everyone a magnificent new school year!
Fun Activities for the First Day of School Writing
Hooray! It's back to school time. As the school year begins, teachers are enjoying the delightful experience of getting to know their new students.
When it comes to accessing a student's writing skills level, first day of school writing activities are excellent tools. Wonderfully, regardless of the age of the students or their grade level, writing is an essential part of any curriculum any time of year. Still, the start of a new school year is a special time for all. That's precisely why…
In this blog post, you'll find some fantastic first day of school-themed resources. Check them out and use them. I hope you'll think they're as useful as I do!
A Few Words about Writing in the New School Year
At the start of a new school year, pretty much everyone is working on evaluating their students' current skill levels and creating a plan to help move them forward and thrive.
From kindergarten teachers who are just introducing the concept of writing to middle school to high school educators who are helping their students expand and refine their writing portfolios, our fabulous list of new school year writing activities outlined below can help you.
Plus, you'll find a wonderful bonus list of writing prompts to use with your new students. Oh, and be sure to check out our list of icebreaker activities outlined!
Ok, let's get to those great new school year writing activities!
15 New School Year Writing ACTIVITIES
Ask your students to write a letter of introduction. This allows them to share personal information with you that can help you personalize your curriculum and also gives you an opportunity to evaluate their current writing skills.
Have your students draw a picture of their favorite memory from summer vacation. Then, ask them to write a descriptive paragraph about their image.
Tell your students to list three resolutions they have for the new school year. This gives students an opportunity to reflect on the upcoming year and to set goals for themselves.
Encourage your students to create a rule for the classroom. After they have decided on the rule, ask them to explain in writing why they think that rule should be implemented.
Ask your students to write an opinion piece related to current events. This is best for middle school and high school students, but it helps them to connect the real world with life inside their new classroom.

Have your students create a set of interview questions that they would like to ask you. Then, read their questions and respond to each student. This will help them feel more comfortable and at ease with you in your classroom.
Tell your students to write an essay about what their perfect day at school would look like. Make sure that they include plenty of adjectives as they describe the entire day.
To teach your students about different styles of writing and the different purposes for writing, have them write copy for an advertisement. Their advertisement should be designed to recruit a new friend who has all of the qualities needed to make a great buddy. This is a great way to get students thinking about how they can treat others as they meet other students in their new class.
Set up a blog for your classroom and ask each student to come up with a post that can be added to the blog throughout the year.
Match each student in the class with another student that they do not know. Ask them to interview each other and then write a news-style article to introduce that classmate to the rest of the class.
Tell each student to create one personal and attainable goal for their school year. Then, ask them to write the steps they will need to take to achieve that goal.
Have students draw their name vertically in an artistic way. Then, ask them to write a poem using the letters of their name.
Ask students to write a book review about one book that they read over summer vacation. Have them present their review to the class in order to get other students excited about reading new books.
Ask your students to write a journal entry about their favorite thing that they did during the summer. Make sure that they explain why it was their favorite memory and have them talk about anything they learned from the experience.
Encourage your students to write a personal reflection about one way they hope to improve themselves in the school year. They can talk about old habits that they may need to change or ways that they plan to hold themselves accountable this year.
The possibilities for the new school year are endless, as long as your students keep on writing.
Next, let's explore some new school year resolutions your students can write about to further help them start their year off right.
12 Journal Prompt RESOLUTIONS for the Upcoming School Year
The new school year is a time of change and adjustment and it presents a fresh opportunity for students of all ages to learn and grow. It doesn't take long for students to get adjusted to the new year and the new routine. Whether in the classroom or writing from home, students can use their journals in order to jot down their resolution ideas and discuss their hopes and dreams for the upcoming year.
This new school year may be different than any other year. You may be wearing a face mask to class, or you might be starting the school year virtually. Write about five ways you can stay positive even in the midst of change, uncertainty, or anything else you may feel and experience.
Every classroom has its own set of rules that might be different from the ones you have experienced in the past. Regardless of the rules that your teacher sets for your classroom this year, you can think about some rules you want to follow yourself. Write down three rules that you will follow this school year.
Mistakes are inevitable, especially when you are starting a new school year. This year, instead of dwelling on your mistakes and being too hard on yourself, make a resolution to learn from your mistakes and move forward. Write about how you can best do this.
Making new friends is one of the most exciting aspects of a new school year. Write about a few ways you can be a good friend in your classroom this year.
Do you remember what your desk looked like when you cleaned it out at the end of the year last year? This should be the school year that you commit to keeping a clean and tidy workspace. Write about how you can keep your desk organized this year.
You will likely be reading and writing every day this school year, no matter what grade level you are entering. Reading is one of the best ways to learn and grow, and you should make a new year's resolution to read as frequently as possible. Write about what types of books you like to read most, and write about at least one new type of book you would like to try reading this year.

What subject is most difficult for you in school? Why is it challenging for you? Write about several ways you can work on overcoming those challenges this year. Do you think you can learn to love this subject?
Going back to school means that it is time to think about school lunches again. What is your favorite thing to eat for lunch at school? What are a few new foods that you could try this year? Write a recipe for a healthy and delicious lunch.
Sometimes, the school day can be long and tiring. How do you feel when you come home from school? What are some things you can do to feel better after a hard day of working in the classroom?
Instead of starting off each school day with a race against the clock, consider making a resolution to enjoy more peaceful mornings. What are a few ways you could improve your morning routine before you head off to school?
One of the best ways to feel like you are a part of the school community is to get involved. What extracurricular activities or sports are available at your school? What clubs or teams do you usually join? Is there a new one that you would like to join this year? Why or why not?
What is one goal that you would like to accomplish this school year? Write out the steps you can take in order to accomplish your goal. Remember you may have to reach a few short-term goals before you hit your major goal.
Come the new calendar year, students can take a moment to revisit their back-to-school resolutions. Many of these resolutions can easily be adapted as the calendar flips from one year to the next.
Ok, it's time for some first day of school writing prompts.
9 First Day of School Writing PROMPTS and Ideas
Below you will find a listing of some useful back-to-school writing prompts for kids. Use these prompts to help your child get the new school year off to the best start possible!
What excites you most about starting school?
Do you have concerns about beginning school? What are they?
What do you like the best about school and why?
What do you like the least and why?
How do you feel about your new teachers(s)?
Are there worries you have about starting school?
Do you feel comfortable beginning school? Would you like to take a tour of it (again) or go over your schedule? Is there anything else you need to make the experience more enjoyable?
Is there a friend or a buddy you can count on to help you through the first week of school? Explain who and why.
Are there ideas you'd like to share about how to make your new school year the best that it can be?
Sweet! Those are some awesome prompts. Now, you know, a new school year often means first day jitters for a lot of students.
So…
If you're looking for a way to help your students ease into the new classroom dynamic, try one — or more — of the great icebreakers outlined below. I think you and your students will love them.
8 ICE BREAKER Activities to Ease Your Students in the New School Year
Yep. You can easily and quickly help calm your student's nerves by using some fun icebreaker activities. Try them out and, above all, have fun.
Icebreaker Activity #1 — Play Two Truths and a Lie. This classic game is a great way to learn interesting things about your classmates right off the bat.
#2. Have your students share their favorite memory from summer break. This is a great way to get everyone to chat and laugh about happy times.
#3. Go around the room and have everyone say one thing they're looking forward to this school year. It could be a new club they're joining, a sport they're playing, or simply getting better grades.
#4. Play a round of Hot Seat. This game is great for getting to know your classmates on a deeper level. Divide the class into pairs and have each pair sit across from one another at desks. Then, assign three questions to each pair, such as:
What is your favorite book?
What's your favorite hobby?
What is the biggest dream you hope to accomplish one day?
The first student in the pair will ask their partner one of the assigned questions, then they will switch places and the second student will answer. It s a fun way to break the ice!
Icebreaker Activity #5. A classroom scavenger hunt is a fun way to get everyone moving and participating right from the start. Hide items around the room and give each student a list. They'll have to work together to find everything on the list, and it's a great way to get them familiar with their surroundings.
#6. Tell a joke or a bunch of jokes to get everyone laughing. Here's a list of 200+ funny, clean jokes for kids
#7. Play a quick game like "Would You Rather" or "Never Have I Ever"
#8. Have students find a partner and discuss one thing they learned from last school year without using the word "school".
When it comes to icebreaker activities, there are many ways to help your students start the new school year off on a good note.
No doubt, a primary goal of yours is to get your students engaged and excited about the new year. Now, here are some more first day of school writing resources to help you do just that!
More First Day of School Resources
I hope you enjoyed this list of new school year writing activities and other writing resources and activities.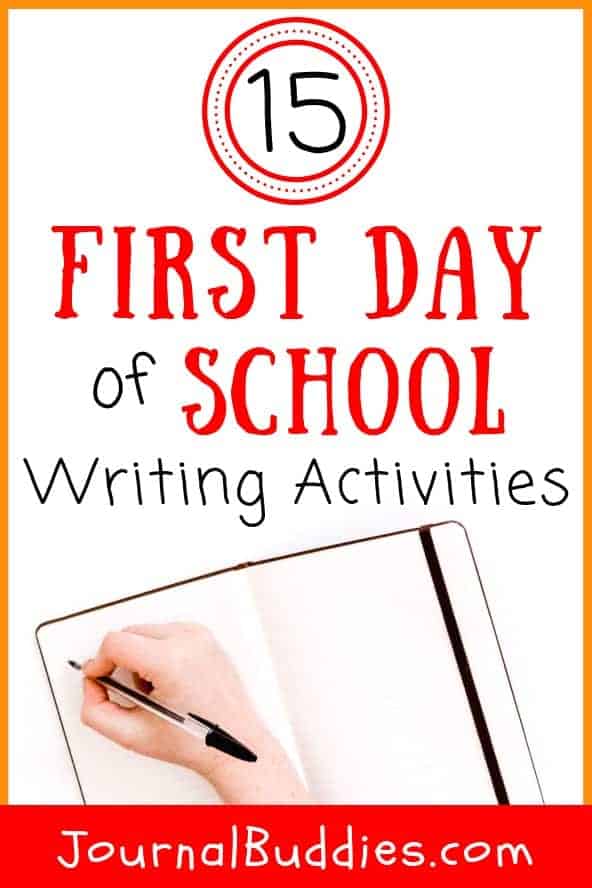 Lastly, let's explore some school success suggestions.
5 School SUCCESS Tips
The First Days of School: 5 Tips to Starting Off Right—
The first day of school is fun and exciting for students and parents. But for many kids, starting school can be a stressful and challenging time. A child may have an especially difficult time if she is attending a new school.
To start the school year off on the right foot, I offer parents, children, and teachers these five tips for school success.
School Success Tip #1 – Do Something for your Child to Celebrate the Start of a New School Year
To start the school year off right, parents can give their child a special back to school gift. Some thoughtful gift ideas are a unique bookmark to use in their school books, a special journal, or a distinctive pen or pencil for writing. (Sometimes the smallest gift can mean the world to a child.)
Another great idea is to write your child a letter or poem that they can read on their first day of school or during the first week of school. Then, at the end of the week, schedule a special get together to review the poem and your child's first week of school and discuss how things went for them.
Tip #2 – Stress Relievers
Children need to learn stress management tools so that they can maintain a healthy balance in their day. A few simple activities for managing stress include art activities, physical exercise, game-playing, dancing, and singing. Or, parents might just give their child a great big hug and treat her to a special night of quality parent-child time together.
It is vital to teach kids that by handling stress positively we can live better and enjoy greater success in every area of our lives, including school.
Tip #3 – Monitor Child's Behavior and Encourage Self Care
A major contributor to a child's learning and school success is helping children learn to identify when they are feeling overwhelmed, worn out, or in need of rejuvenation. Behaviors such as losing one's temper, overreacting, or disinterest in one's favorite hobbies indicate a need for self-care.
Self-care is taking action with the intention of improving or restoring one's mental and emotional health. Some people also call this "Me Time". Whatever you call it, children can practice activities that will restore balance and wellness to their day.
A wonderful example of a self-care activity for kids is playing games outdoors. By doing so children will get exercise, use their imaginations, benefit from playing with friends, and regain a sense of balance.
Tip #4 – Journal Keeping: A Great Tool for Overcoming Fears & Anxieties
Returning to school can present a child with challenges such as fear and anxiety about making new friends, being accepted by others, being liked by their teacher(s), being successful, and the threat of bullies. Kids need to know how to deal with these fears and how to overcome them.
One of my favorite solutions to overcoming personal fears and anxiety is journal keeping. When a child keeps a journal, she is able to record her feelings about events in her life and work through those negative feelings related to those events. This is an especially useful tool to use before the start of school and throughout the entire school year.
There are many writing journals for kids, and I suggest that you choose a special one that suits your child's personality to help him or her begin a journaling practice. Of course, you could always have your child use a simple notebook as a journal or take things a step further and create a brilliant homemade journal together.
If you enjoyed these First Day of School Writing Activities, New Year Resolutions, Writing Prompts, and School Success Tips, please share them on Facebook, Twitter, and/or Pinterest.
I appreciate it!
Sincerely,
Jill
journalbuddies.com
creator and curator