Yes, we have Summer writing prompts for 3rd grade for you and your writers. Take a look and enjoy these fun writing ideas. And – have a fabulous summer!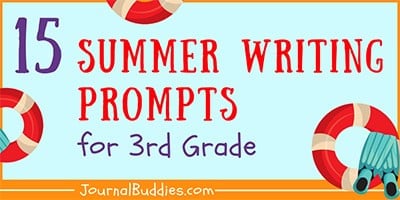 Journal Prompts Make for a Writing Adventure
By the time students enter 3rd grade, they recognize that writing is a critical part of their school experience. Not only are they practicing spelling words, but they also are identifying the parts of a sentence.
Plus…
They are learning more about paragraph structure and discovering how to write a complete story that includes an introduction, a problem, a solution, and a conclusion. Now, to build on these writing skills…
3rd-grade students should keep a summer writing journal. Oh yeah!
You see…
A journal is a fun way to encourage them to keep up with writing and also provide them with an outlet for their own feelings and experiences.
Of course,
A summer writing journal doesn't have to be a daily log of activities. By using summer writing prompts for 3rd grade, your child can create a dynamic journal filled with a variety of writing samples. These samples can be provided to teachers to help them better understand where your child is at and to give them an opportunity to customize the curriculum for the school year.
These are just a few summer writing prompts for 3rd grade that you can use as a starting point. Of course, you can always come up with a few of your own that are uniquely suited to your child's interests and skills.
15 Summer Writing Prompts for 3rd Grade
You are in charge of your family's summer vacation. Where are you going to go? What are you going to do when you are there?
Write about your favorite summer pastime. Be sure to use a lot of adjectives to describe it!
Write a persuasive letter to your parents about why you should earn a higher allowance this summer.
Summer is the perfect time to try something new. List three new activities or experiences you want to enjoy during your time off from school.
Write a fictional story about two people who meet over the summer, and quickly become best friends.
Describe your favorite flavor of ice cream.
What is your favorite sport? Is it something that you can play during the summertime? Why do you like this sport?

Write a realistic fiction story about waking up on a rainy day during the summer. What do your characters choose to do?
Choose a time period to research, such as the Civil War era or the 1960s. Then, write about what summer was like for 3rd-grade students during that time.
Write directions for how to cook the perfect s'more.
Does your family have a summer tradition? What is it?
Write a letter to a friend from school who you haven't seen over the summer.
Make a list of three books that you want to read over summer vacation. Why did you choose these books?
Gardening is a popular summer activity. Imagine that you are going to start your own garden. What would you grow and why?
Write a fictional story about a student who gets to care for the class pet over summer break. What goes wrong? What goes right?
I hope your writers enjoy these summer writing prompts for 3rd grade writers.
287 More Free and Fun Summer Journal Prompts
These prompt lists all have a summer theme and are packed with creative writing prompts and inspiration!
Take a look at these other writing prompts for 3rd grade.
Now, let's explore…
The Favorites List
A super-simple way to get stated writing or as a writing warm up, is the favorites list.
Have students write about their favorite thing or things from this list:
Favorite foods
Favorite summer treat
Favorite way to spend a summer day
Favorite place
Favorite book
Favorite toy
Favorite video games
Favorite season
Favorite movie
Favorite animal
Favorite pet
Favorite holiday
Favorite time of day
Favorite jokes
These favorites ideas are especially useful for those reluctant writers or non-writers. These writing ideas are easy to use and nearly every writer can answer them without much effort. Plus, they are an excellent way to get those creative writing juices flowing for writers of all skill levels.
Ok, grab that pencils and your journal pages and get to writing now.
Summer is the perfect time for third grade students to keep on writing!
If you enjoyed these Summer Writing Prompts for 3rd Grade,
please share them on Facebook, Twitter, and/or Pinterest.
I appreciate it!
Sincerely,
Jill
journalbuddies.com
creator and curator
---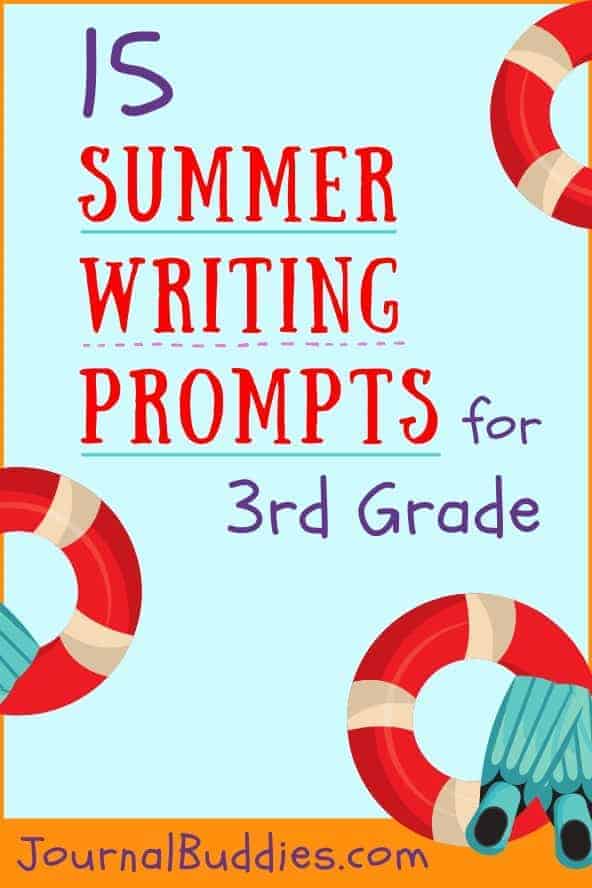 The following was originally published on this page in July 2014—
Summer Writing Prompts for 3rd Grade— Writing is a great way to stimulate the minds of children. Writing can provide them with the opportunity to explore a fictional event, tell a story that has impacted their personal lives, or reflect on their own life experiences through journal keeping.
With that being said, many parents and teachers not only see summer writing as an interesting assignment but as a form of self-therapy for kids of all ages. There is an ample amount of writing prompts that you can use to keep your children or students interested in the art of writing. But, below you will find a list of summer prompts for 3rd-grade kids.
Subjects that are specific to summer can be a great way to get children to reflect on events that they experience during their time out of school. Whether they want to write about a family vacation that they enjoyed or if they want to make up their own summer event to entice their creativity, the options are endless.
Be sure to explore our site to find many more writing ideas for kids of all ages!
5 MORE Summer Writing Prompts for 3rd Grade
Some interesting summer writing prompts for 3rd grade include:
1. What was your favorite activity that you did during the summer?
2. Where did you go on vacation and was it your first time at the location?
3. Go for a walk with your parents and write about the walk you went on.
4. Do you prefer to play inside or outside during the summertime? What do you play?
5. If you could receive one present at the end of a year of school, start of summer, what would it be? Why would you choose that present?
5 Great Writing Prompts for Any Age Writer
Children may get tired of writing about the topics of summer, so in this case, you can give them creative writing tasks to complete during their time out of school but the topics can vary. Below is a list of some great writing ideas that are not specific to summer.
1. If you could eat anything in the world for 24 hours, what would you eat?
2. What things do you like the most amount yourself?
3. If you could make up a brand new subject to be taught at school, what would it be?
4. What is your biggest fear? If you had to face this fear, what would you do?
5. If you had a chance to meet the President, what would you say and/or ask him?
Finally, check out this great resource:
Ok, that's all for today.
Until next time, write on…