Yay! Summer is officially here and what better way is there to get into the summer spirit than writing about some beach writing prompts? You can use these prompts for yourself – or use them to help your kids or students to write in a way that's easy and fun!
Plus…
These beach writing prompts can be used in any summer school class or daycare group!
These are some wonderfully fun journal prompts to get anyone's creativity going and help give any writer that summery feeling all year round! You can also use them as great conversation starters with any group.
Now…
To add some extra writing fun to your sun and sand, get to it and grab your suit, towel, journal, and pen, and use some of these beach writing prompts today.
39 Beach Writing Prompts
1. Would you rather vacation at the beach or in the mountains? Why?
2. What is your favorite thing to do at the beach?
3. Write a description of the best sand castle that has ever existed.
4. Is there something in your life that reminds you of the way the tide comes in and out?
5. Do you think sand counts as a beach if it's at a lake or does it have to be at the ocean?
6. Have you ever tasted seaweed? Does it taste good? If you haven't tasted it, would you try it?
7. Do you prefer to play in the waves or ride on a boat?
8. Do you prefer to swim in chlorinated water or salt water?
9. What is the worst sunburn you've ever gotten?
10. Do you usually wear sunscreen at the beach?
11. How do adults act differently from kids at the beach? Why do you think that is?
12. If you went to an ice cream truck at the beach, would you prefer to get popsicles or ice cream cones?
13. What are some of your favorite vacation memories?
14. Would you rather have a picnic on the beach or at a park?
15. Describe your dream restaurant with a beach-themed summer menu.
16. Write about the most beautiful beach you've ever been to.
17. Would you like to try surfing? What do you think it would be like?
18. Did you grow up near a beach? What would it have been like to have the opposite experience?
19. Would you rather go to the sandy coastline in California or North Carolina? Why?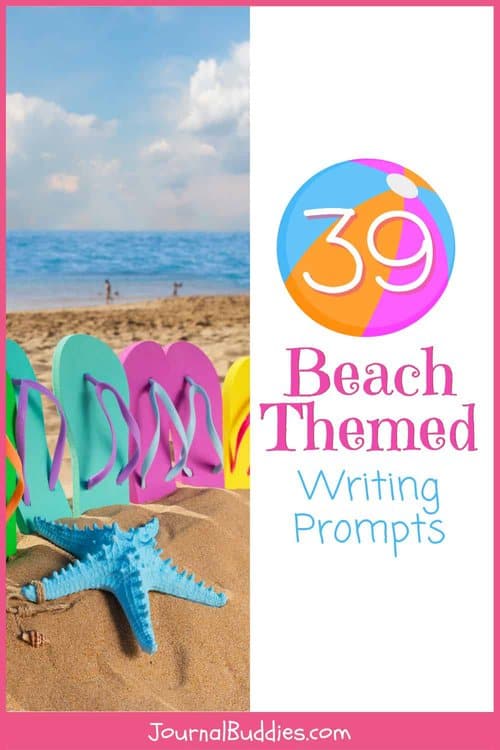 20. Do you think it's true that the prettiest sunsets are on the beach? Why or why not?
21. What are your favorite types of things to do at the beach?
22. Do you find feelings of inspiration in nature?
23. Write a story about someone who goes to collect seashells and comes across something a bit unusual.
24. What is your dream summer vacation?
25. Write a story about going to the beach with your best friend.
26. Write a story where you find a beachside souvenir shop that isn't what it seems.
27. Write a story where you move into a new home on the side of the beach.
28. Write a story where a character finds an unusual item in an underground cave at the beach.
29. What is your favorite movie about the beach?
30. If you could be any sea creature, which would you be and why?
31. Which do you like better: swimming in the water or laying in the sand?
32. Are you scared of the ocean at all? Why or why not?
33. If you were going to bring any book to read at the beach, which one would you bring?
34. Describe the most beautiful swimsuit possible.
35. Would you rather climb a sand dune or lay on a towel and relax?
36. Would you rather take swimming lessons or sailing lessons?
37. If there were contacts that could act like sunglasses, would you use them in your eyes?
38. Would you rather go to the beach or an amusement park?
39. What would you do if you were left alone at a resort on an island for a week?
We hope you loved using this list of beach writing prompts and ideas as much as we loved writing them for you. Yay for sunshine, sand, and writing!!
A Few Closing Thoughts
These beach writing prompts are the best option to jump-start your students' writing for fun practice this summer (or otherwise).
Yeppers…
You can use this list of beach writing prompts for writing practice for any grade from kindergarten to 12th grade.
And, not only can you use them for freewriting, but you can also use them for student-teacher journal prompts, personal narrative prompts, short story prompts, or fun class discussions.
Until next time, write on…
Related Links & Writing Resources for You
If you were inspired by these Beach Writing Prompts,
please share them on social media via
Facebook, Twitter, Instagram, TikTok, and/or Pinterest.
I appreciate it!
Sincerely,
Jill
journalbuddies.com
creator and curator