16 Random Writing Prompts + 5 Bonus Benefits & 6 Tips— Getting children involved in creative writing with random writing prompts is a great way to hook their attention and get them writing and enjoying it, too!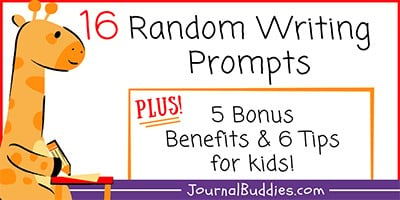 Stick around to see and discover some wonderful random writing topics.
Writing Inspirations & Story Idea Generator
It's true, light-hearted, no-strings-attached, random writing is a fantastic writing tool use, because it is, well… in a word, fun.
And fun is exactly what could inspire a deep love for writing in your precious students.
Of course, writing of any sort also means students get the chance to exercise their creativity, build literary skills, and gain a greater appreciation for the arts.
But please remember this…
You see…
Providing your elementary school — or middle and high school — students with a random writing prompt encourages them to explore new, creative ideas they may not have thought of before. Plus, it's entirely possible that they will get inspired to write their own stories from a random idea.
The bottom line is: random writing is an excellent way to encourage your writers to appreciate the value and fun of writing skill development.
Plus…
As children learn to convey ideas through their written words, they'll develop a powerful education skill that is useful now. A major added bonus is that good writing skills will also serve them well in the future.
Which is why…
Another important point to remember is to ensure your kids enjoy the process of learning how to express themselves creatively via the written word.
How to Use This List of Prompts with Your Writers
Random ideas to write about can help your writers develop their unique writing voice. So, if you're looking for good prompts to give your kids to practice their writing and story creation skills, then look no further.
You can get inspired to use these writing ideas in many ways. A few ideas are to use this list are:
To assign them as a writing exercise in your classroom
Provide the list as random prompts for a homework assignment
Use these ideas as journal prompts for a student's daily journal entry
However you use these ideas, just use them. Because, they are sure to get your writer's creative juices flowing, and that's what it is all about.
16 Random Writing Prompts & Topic Ideas
Hooray… I hope your writers will find loads of inspiration with our amazing list of random writing prompt ideas that follows. Enjoy!
Write about your favorite memory. Include as many details as you remember.
If you had one day to do anything you want, what things would you do in that day? Why?
What's your favorite holiday. What makes it your favorite?
Write a short story about getting a new pet. What kind of pet would you get? What would you do on that first day with your pet?
What kind of super power would you like to have? What would you do with it?
Write about two or three places you'd like to visit someday. Why do you want to travel there?
What movie or book character would you like to meet? Why?
If you woke up to find that you were invisible, what would you do?

Where would you go if you had the ability to travel into the past?
Describe your favorite type of weather. Why do you like that kind of weather?
What is your favorite hobby? Why do you enjoy doing it?
Write about your best friend. Describe how they look and what you like about them.
Look at the nearest window. Write about everything you see.
If you were the main character in your favorite movie or book, what would you do?
Describe your first day of school.
Write about what you would do if you were given $100,000 to spend.
We hope these random writing prompts spark your writers' imaginations, get them tapped into their creative perspectives, and help them generate fun story angles. And perhaps these ideas will inspire some amazing fiction writing, too.
Now, let's go beyond these random writing prompts and explore some writing benefits and tips.
Benefits of Writing Skill Development
Working with kids to develop their writing skills today will pay off big in the future. Some of the benefits of helping children learn to write creatively include:
Encouraging kids to use their imaginations. It's fun, it gets them away from the devices that pervade their lives, and lets them practice thinking outside the box.

Develops identity and self-confidence. When kids create things themselves and have the chance to explore various issues and types of characters, they learn more about themselves. They also find out they're able to create praiseworthy, unique pieces of writing, building their confidence.

Builds language, reading, and writing skills. As kids practice their write skills. they'll naturally learn new words all while developing thier grammar skills. It'll build skills that will come in handy later in life no matter what profession they choose.

Creates an emotional outlet. Creative writing provides kids with the opportunity to express their ideas and thoughts in a safe way. This allows them to process and sort out emotions in a place that feels safe.

Teaches kids about empathy. As kids write about characters, they put themselves in the 'shoes' of their character. They think about how they behave and how they feel. It teaches children how to be more empathetic towards others.
Help them overcome writer's block
Helpful Writing Tips for Kids
As you work to help kids learn about the joys of writing, follow these essential tips:
Tip #1 – Start with baby steps. Don't expect too much from kids right away. Realize it will take time and patience from you for them to build good writing skills.

#2 – Avoid pushing too hard. If you push kids too hard when they're learning the basics of creative writing, it may turn them off to writing – something you want to avoid.

Tip #3 – Give them plenty of time. Let kids write at their own pace. On their first try, just a couple of sentences or a paragraph or two is enough and an achievement.

#4 – Recognize their individuality. Every child is different, so remember they'll have their own personalities, which will come across in their writing styles.

Tip #5 – Compliment kids. Positive reinforcement goes a long way and boosts kids' confidence when they're learning to write.

#6 – Provide great writing prompts. Giving kids prompts to help them figure out what to write about can help them generate more of their own writing ideas.
Beyond Short Stories and Some Closing Thoughts
When encouraging kids to write and develop their writing skills, you probably think about short stories first. Yet, that's just one form of creative writing. Some additional forms include speech writing, journaling, screenwriting, songwriting, poetry, and more.
By nature, kids have big imaginations. They see things from a different perspective than adults do because they haven't been affected by the complexities of life. While this may mean that their ideas are simpler, they're often quite insightful. (Spend a little time talking to youngsters and you'll quickly find they have unique insights and wisdom that belies their age.)
There are many wonderful outcomes of writing practice. One wonderful one is that it helps young minds learn how to take their ideas and share them via the written word.
Best of all, when your kids expand their writing skills, you might be surprised with the ideas they come up with when they write. Indeed, kids may even surprise themselves. So help them pick a random writing prompt and get creating right now. Enjoy!
Related Links & Resources
Until next time, keep on writing…
If you enjoyed these Random Writing Prompts for Kids,
please share them on Facebook, Twitter, and/or Pinterest.
I appreciate it!
Sincerely,
Jill
journalbuddies.com
creator and curator