Camping Writing Prompts and Journal Topics — We have listed a colorful set of camp-themed writing prompts in this blog post to help you pass the time and get more deeply involved in your summer camping experience. Camp counselors, parents, and camping lovers, this one is for you. Yes!
Whether you have been camping or not, there are many ways for you to use this theme for fun writing activities.
You see…
These camping writing prompts will take you on all kinds of new writing adventures, from inspiring a great fiction story idea to an intriguing nonfiction account. From inside the classroom to the campground, camping-themed writing is a great way to celebrate the great outdoors.
Yeppers…
Creative writing and journal entries are great ways to tap into your imagination and craft beautiful and interesting stories. You can also share real-life experiences and revisit your best memories of camping.
From designing an obstacle course to crafting a fictional story or writing a fun acrostic, camping writing prompts can sometimes be as much fun as going there.
Take a look now and enjoy!
24 Camping Writing Prompts to Get You Started
What better way to relive your exhilarating camping memories than to write about them? Use these fun prompts to get going.
Write an acrostic poem on the words "Hike, Fire, or Tent".
Write a step-by-step guide on how to prepare a campsite.
Suppose you saw a bear near your campsite, what would you do to get away? Be creative!
Pen an interesting camping theme story mentioning kids, a road trip, and a scavenger hunt. 
Suppose you get a special camping journal that makes all the adventures you write about come true. What will you write? 
She was sitting by the campfire, toasting marshmallows, and suddenly she gasped and saw the shadow of…complete the story using your imagination. 
Write about your favorite camping adventure. What made it so memorable and where did you go? 
Suppose you get lost in the middle of nowhere while camping. What will you do to stay safe? Also, list the essential things you should keep in a backpack.
How many times have you been camping? What do you love most about it? 
Suppose you're going for a hike and it suddenly gets too dark. You forgot your flashlight – what will you do? 
Write a poem inspired by the beautiful sight of camping
If you were a nature photographer, what would you like to capture on your camera?

If you get a chance to go camping with a fictional character(s), whom will you choose and why? 
Also, write a story on the things you'd like to do when you go camping with your favorite fictional characters. 
List the things that you need for an exciting camping trip. You can also use imaginary items. 
If you get a chance to tell a ghost story while camping, which story you will tell? Write it down. 
Suppose you are in charge of the scavenger hunt. List some fun ideas and choose the perfect prize for the winning team.
Craft a letter to your friend, telling about a fun camping adventure. Add as many descriptive details as possible. 
Write an interesting story on "Weekend Camping Trip Gone Wrong".
Would you rather backpack in the hills, tent camp at the beach, or take a trip in a motorhome?
Write instructions for new campers telling them what to bring, how to set up tents, and how to navigate obstacles. Make sure to use stronger verbs instead of weak verbs to make the instructions more impactful. For extra fun, draw an obstacle course. 
In your opinion, what is the best season for camping and why?
What are the annoying things people do while camping? For example, not disposing of trash and plastic bags properly or not putting out fires. 
Pen a journal entry describing challenges you faced during camping and how you tackled them.
It's true. Camping is one of the most exciting topics for everyone during the summer months and can enhance fun camping adventures.
And, these prompts are excellent for inspiring creativity, refining one's writing skills, and getting those creative juices flowing. So grab a pencil and paper and use these camping prompts for creative camping writing activities.
162 More Free Writing Prompts
Ok, that's all for today.
Get your notebook, tablet, laptop, or journal and get down to the business of writing about your camping inspired great adventures.
Until next time, write on…
If you enjoyed these Camping Writing Prompts
please share them on Facebook, Twitter, and/or Pinterest.
I appreciate it!
Sincerely,
Jill
journalbuddies.com
creator and curator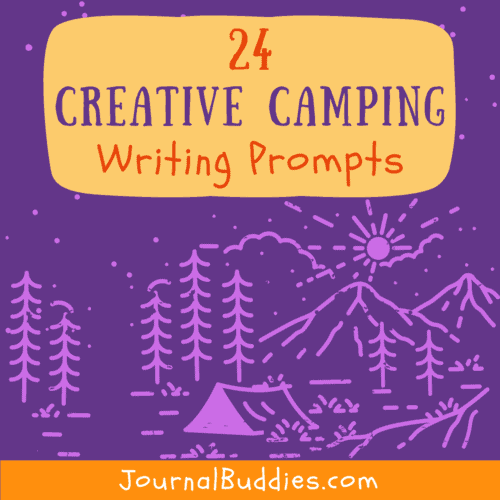 PS Check out this interesting resource —> Handwriting Analysis of Some Famous Signatures
And this fun camping resource —> Camping Crafts Kids Will Love