Questions to Get to Know Someone + TWO Bonus Lists Journaling Prompts— Childhood is a time of exploration and self-discovery as kids learn who they are and how to navigate their places in the world. With that in mind…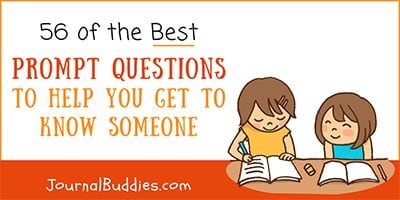 These excellent questions to get to know someone and the personal nature of these writing prompts are the perfect way to get young people interested in both learning about someone else and in journaling.
Plus…
The more students write, the better they'll become at expressing their innermost thoughts and feelings in a confident, descriptive way. Oh yeah!
For extra fun…
Have students share their answers to these questions to get to know someone after they're done writing. Yes! Your class will love having the chance to share their own responses and to hear what their friends also had to say.
Of course…
It's little wonder that many elementary school kids (or middle or high schoolers even!) are eager to tell others all about themselves and the things that interest them the most.
And…
Our list of 31 wonderful journal writing prompts are made up of popular questions that students may use to get to know someone.
Best of all…
Students will have all sorts of fun writing about topics like their greatest talents, times when they helped other people, and their favorite animals. Plus, they'll expand their writing skills in the process.
Ok, without further ado. Here are those excellent questions to get to know someone that double as a wonderful list of writing prompts. Enjoy!
31 Questions to Get to Know Someone Writing Prompts
What is the most interesting thing about you? Would it surprise people?  Why or why not?
What is the most memorable dream you've ever had? Describe it in as much detail as possible.
What is your favorite place in the whole world? Is it a large place (like a city) or a small place (like a tree house)?  What makes it so special to you?
What do you remember about your first day of school? Would you go back and repeat it again if you could?  Why or why not?
If you could do anything in the world right now, what would you want to do?
What do you think the best food in the world is? Why is it better than other, similar foods?
What do you like most about your birthday?
Write about how your parents chose your name.
Who knows you better than anyone else?
Who do you like to see when you're sad? How does that person make you feel better?
What is unique about your family's home?
Have you ever wished you could travel back in time? Where and when would you go?
What is your greatest talent? How did you become good at it?
Do you like working on group projects? Why or why not?
Who is your favorite singer? What do you like best about his or her songs?
Are you good at sports? Why or why not?

Write about a time when you did something that you were proud of.
Write about a time when you helped another person.
What is your favorite animal? Why do you like it the most?
Would you rather go camping or to the beach? Why?
At what age do you think you will feel grown-up? Why?
Who is your closest friend? How did the two of you meet?
Do you want to have kids of your own one day? Why or why not?
What do you want to be when you grow up? Why?
What is the most important quality for a person to have? Why?
Write about your favorite thing to do and explain why you like it so much.
Do you enjoy journaling? Why or why not?
What is one thing that you wish everyone would do more often?
What is your favorite month? Would you want to experience it year-round?  Why or why not?
Write about a time when you had so much fun that you didn't ever want it to end.
What is one thing you would like everyone to know about you?
Use these awesome questions to get to know someone writing prompts in your classroom lessons. I know you'll be glad you did because you'll encourage creativity in your new students, kick of a new school year on the right foot, and help those more reluctant writers over come their writer's block.
Theses ideas are sure to encourage student writing in your classroom this year.
Bonus List of 9 More Get to Know You Writing Prompts
In case the list of prompts above wasn't enough, here are some writing writing ideas for your students.
Does your family go on vacations and if so, where do you go? What's your favorite place to visit?
Which school activity is your favorite? Why?
Write a poem about how it feels to get to know someone new.
What is your favorite season? Why?
How do you spend your summer vacation?
What routines do you have in your daily life? How do they help you.
What is your favorite food recipe. Explore the ingredients in it and the tastes it offers.
Do you have a pet? Tell me about it.
What is your favorite memory about your younger self and why?
Ok, be sure to offer your writers some instructions and guidance in their writing assignment on getting to know someone. And if your want to amp up your kid's writing, be sure to check out our extensive collection of creative writing prompts, short story ideas, and more.
And now check out these bonus journaling ideas…
16 MORE Journaling Ideas to Get to Know Someone
(Or use these ideas to get to know yourself better!)
What's on your bucket list?
Who is your best friend? Why?
Share your perspective on the kind of person do you consider yourself to be.
What is your more positive habit and what positive impact does it have for you?
Have you ever kept a mood tracker? If so, what did you like about it. If not, would you like to keep one?
Do you set goals?
What is your favorite quote?
List out your top personality traits.
What is your favorite way to get to know a new person?
Do you have a daily routine you follow?
What grade has been your favorite one thus far?
What is your greatest passion?
Do you keep a diary or a gratitude journal?
Do you practice self-care? Is self-reflection a part of it if you do?
What emotions do you enjoy the most and which ones challenge you?
What distractions in life affect you the most? Why?
Now see these…
132 More Writing Prompts & Get to Know Your Resources
And check out this…
The Favorites Prompts List
For those reluctant writers or non-writers, we suggest you use the time-tested favorite writing prompts. They are simple ideas that nearly every writer can answer without much effort. Plus, they are an excellent way to get those creative writing juices flowing for writers of all skill levels.
Have students write about:
Favorite foods
Favorite place
Favorite book
Favorite toy
Favorite season
Favorite movie and/or movie character
Favorite animal
Favorite pet
I hope your writers use these ideas for inspiration.
Now have your kids — from elementary to middle school all they way to high school students — grab their pen, pencils, notebook, computer or writing device of choice and get to writing now.
Ok, that's all for today.
Until next time, write on…
If you enjoyed these Questions to Get to Know Someone for Kids,
please share them on social media via Facebook, Twitter, Pinterest.TikTok or elsewhere
I appreciate it!
Sincerely,
Jill
journalbuddies.com
creator and curator
PS Check out this helpful resource —> Fun Icebreaker Questions