Mother's Day Topics— As Mother's Day approaches, students will undoubtedly be thinking about ways to honor their mothers and show their appreciation for everything that mothers do.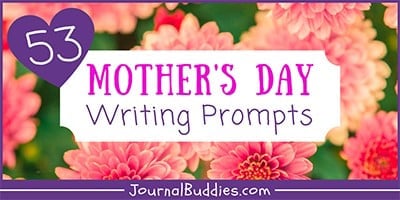 Give Mom's the Gift of Writing
Push your students' thoughts further with these new journal prompts about Mother's Day. They'll consider the lessons they've learned from their mothers, as well as the best memories they share. Students will also think about the unique qualities their mothers possess and what it is that makes mothers so special.
Journaling about Mother's Day can help students to think beyond their love for their mothers and to start thinking about why mothers are so important. As they write about the great times they share with their mothers and examine how their mothers show love, students can develop a new understanding of what it means to be a mother.
Expressing these thoughts can help students to see their mothers from a new place. Writing also encourages students to express their thoughts to their mothers.
Get students ready for Mother's Day with this set of inspired journal prompts. They'll enjoy the chance to write about such a personal topic that is so close to their hearts.
Mother's Day Topics
I love my mom because…
The most important thing my mom taught me…
What does it mean to be a mother?
One thing I can do to make my mom's life easier…
When I'm older, my mom and I will…
The hardest part about being a mom would be…
If you could give your mom anything in the world for Mother's Day, what would it be?
I should tell my mom that…
Write about five things a good mom must do.
When do you know that your mom is proud of you?
If my mom had a superpower, it would be…
What is your favorite tradition with your mom?
Mothers are important because…
My first memory of my mother…
Do mothers really have eyes in the backs of their heads?
My mom believes that…
Would you trade places with your mom for a day if you could?
On Mother's Day, I will…
Who are some other important women in my life to recognize on Mother's Day?
My mom always says…
I really appreciate it when my mom…
Imagine your life without your mother. What would be different?
It's important to have a day for mothers because…
My mom is silly when…
My mom would rather have me do __________ than get her a Mother's Day present.
My mom is happiest when…

My mom helps me with…
If my mom could do anything or go anywhere in the world, she would…
What are the different names you called your mom as a kid and how have they changed?
Three things I could do to help around the house more…
I can tell my mom likes being a mom when she…
To show appreciation for my mom, I will…
What is your mom's favorite story about you as a kid?
Write about your relationship with your grandmother.
How would you describe your mother in three words?
I can thank my mom by…
When I have kids, they will think their grandmother is…
What is your mom's favorite thing to do?
My mom told me about __________ that happened while she was pregnant with me.
I can always count on my mom because…
My mom was right about…
What would it be like to be a mother?
I know my mom loves me because…
My favorite thing about my mom…
My mom loves it when my family…
I can celebrate my mom all year by…
Write a poem about being a mother or using the letters in the word "Mother."
My mom is there for me when…
My mom says __________ about being a mom because…
My mother's job is…
My mom and I love to…
The most important thing my mom ever did…
My favorite memory of my mother is…
Links & Resources
I hope you found these Mother's Day writing prompts helpful and useful.
Until next time, write on…
If you enjoyed these Mother's Day Topics,
please share them on Facebook, Twitter, and/or Pinterest.
I appreciate it!
Sincerely,
Jill
journalbuddies.com
creator and curator