Fun Topics + Bonus List of Favorite Things— Need help coming up with an interesting topic to journal about or discuss with another? Well, you're in luck?. Yes, you can play and enjoy while having as much fun as possible with this list of prompts and great question ideas. Read on to see more and enjoy!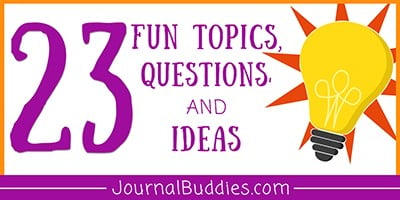 Things to Write about and Great Conversation Ideas
You see…
You've just discovered a fabulous list of fun topics and good conversation ideas to spark great connections with yourself, your family, friends, and others in your life.
In these new fun topics, journal prompts, and conversation starters, you'll get creative as you think about specific topics such as your family members, childhood experiences, lifestyle, and preferences.
Yeppers. This list of fun ideas also makes for interesting conversation topics that can bring out positive things you otherwise wouldn't know about yourself and others.
Now… let's get to those fun topics and start writing and chatting!
23 Fun Topics to Inspire You
Write a story about two friends who are separated when one moves away. How do they continue their friendship?
How do you feel about making new friends?
How would a habit to engage in more humor every day affect you positively for the rest of your life?
Which movies are your favorites and why
What is your all-time favorite movie?
Have you given a family member a compliment recently? If so, how did it go? If not, write about how you could do so in the next week.
What trends in social media do you think are exciting? Or… Which ones do you not like and why?
Write a story about pizza, aliens, podcasts, and a new fashion trend.
Create a bucket list of good topics you'd like to talk about with your girlfriend or boyfriend or good friend.
Vacations are the best because…
Birthdays are the best because…

What forms of entertainment make you the happiest?
What role models do you look up to and why?
What is your ideal first date?
What is your dream job?
What gift would blow your mind to receive?
What gift would blow your mind to be able to give to someone else?
If I were a famous singer…
My body is covered in tattoos…
Video games are…
I think I could do more to make the world a better place by…
My greatest passions in life are…
A guilty pleasure I indulge in is…
When kids and people of all ages journal using the above prompts, their creative juices will start flowing.
Plus, they'll go beyond small talk and dig deeper to get to know themselves and others.
Finally, each of these great ideas and fun topics can break up any awkward silence you may experience. Or… they can help you get to know even the most talkative of people on a deeper level.
The Ultimate List of Favorite Things
Here are even more suggestions of fun topics to write about that go beyond the fun ideas listed above.
Yes, our version of time-tested favorite writing prompts. These are simple ideas that nearly every writer can answer without much effort. These ideas are an excellent way to get those creative juices flowing for writers of all skill levels. Plus, they make for easy conversation starters, too.
Favorite foods
Favorite movies or tv shows
Favorite character
Favorite book or novel
Favorite restaurants or places to eat
Favorite toy
Favorite season
Favorite color
Favorite games
Favorite teacher
Favorite songs
Favorite movie
Favorite holiday
Favorite pet
Favorite place
Favorite subject
Hobbies
Celebrities
Way to spend your free time
Favorite flavor of ice cream
Of course, you can also turn this list on its head and write about your least favorite thing.
More Writing Prompt Resources
Until next time, have fun and write on!
If you enjoyed these Fun Topics, please share them on Facebook, Twitter, and/or Pinterest. I appreciate it!
Sincerely,
Jill
journalbuddies.com creator and curator