Fun and Creative Writing Prompts about Pets for Young Writers— The list of pet writing prompts shown below contains some of our favorite writing prompts about pets for children of all ages, but the ideas are especially pertinent for those students in 1st, 2nd , and 3rd grade. However you and your students decide to use these prompts, just make sure they have tons of fun writing about pet animals!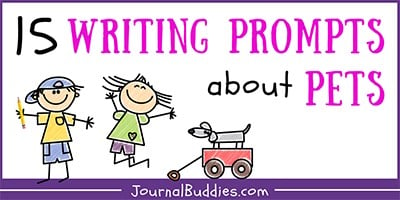 Simply have your student select his or her favorite prompt from the list and write about it. Or, better yet, designate an entire unit of study to writing about pets and pick a prompt — or two or more — per week for inspiration.
Journaling is a powerful activity that can ground your students by giving them a stable, reliable place to express themselves. Your students will become more confident in their own ideas when they see that their thoughts matter with regular writing.
Below we have compiled a list of 15 great writing prompts about pets for your budding scholar. Enjoy!
15 Writing Prompts about Pets
Have children write a poem about their dream pet. There are no rules here. Just fun. They can even draw a picture if they would like.
Write a story from the point of view of one of your pets (or of your favorite animal).
Describe your favorite pet. What do you love about it? If you do not have a pet, describe the one you would like to have the most.
Invent a brand new pet. What would it look like? How would you have to care for it?
Write a conversation you would have with your pet (or dream pet) if you could talk with animals. (You could even read passages from Doctor Doolittle to go along with this prompt.)
What if you had a pet like your favorite cartoon character? Who would it be? What kind of adventures would you have?
If you would like to have a pet, make a list of the things you would have to do to care for your pet. If you already own one, write a paragraph about how you care for your pet.

You can choose to be the pet of anyone in the world. Who would it be? What kind of animal would you be?
Which pets are the best? Why?
Let your students finish this story: "If I were a pet, I would be a _____, and I would…."
What would the world look like if cats acted like dogs and dogs acted like cats?
What if we all kept wild animals as pets? Which one would you choose?
What would happen if you lost your pet? How would you feel? What would you do?
If someone were to care for your pet (or dream pet) while you were away, what things would they need? Write out the care instructions they would have to follow to care properly for your pet.
What would your day be like if you were a cat? Or a dog? Or a fish? What sorts of things would you do? What would be your favorite time of day?
Related Links & Resources
Until next time, write on…
If you enjoyed these Writing Prompts about Pets,
please share them on Facebook, Twitter, and/or Pinterest.
I appreciate it!
Sincerely,
Jill
journalbuddies.com
creator and curator