Hello and Welcome. Here you will find some free, fun, and creative writing worksheets high school pdf printables, plus writing prompt and journal page pdfs. Take a look now and enjoy.
Oh yeah!
There are tons of great activities and tools you can use to make sure your high school students are excelling in school—but one of the absolute best options is to have them write in a journal on a regular basis.
To help support you in your efforts to provide your kids with the writing skills they need, we offer you the following free writing resources in the form of free writing worksheets.
You see…
Some of the resources are writing worksheets and others are printables. We also share a link to one of our favorite writing worksheet resources for high school students.
If you need fun ways to support your kid's writing skill development, you have come to the right place. We welcome you and hope you enjoy the resources on our blog.
Writing Worksheets High School PDF Printables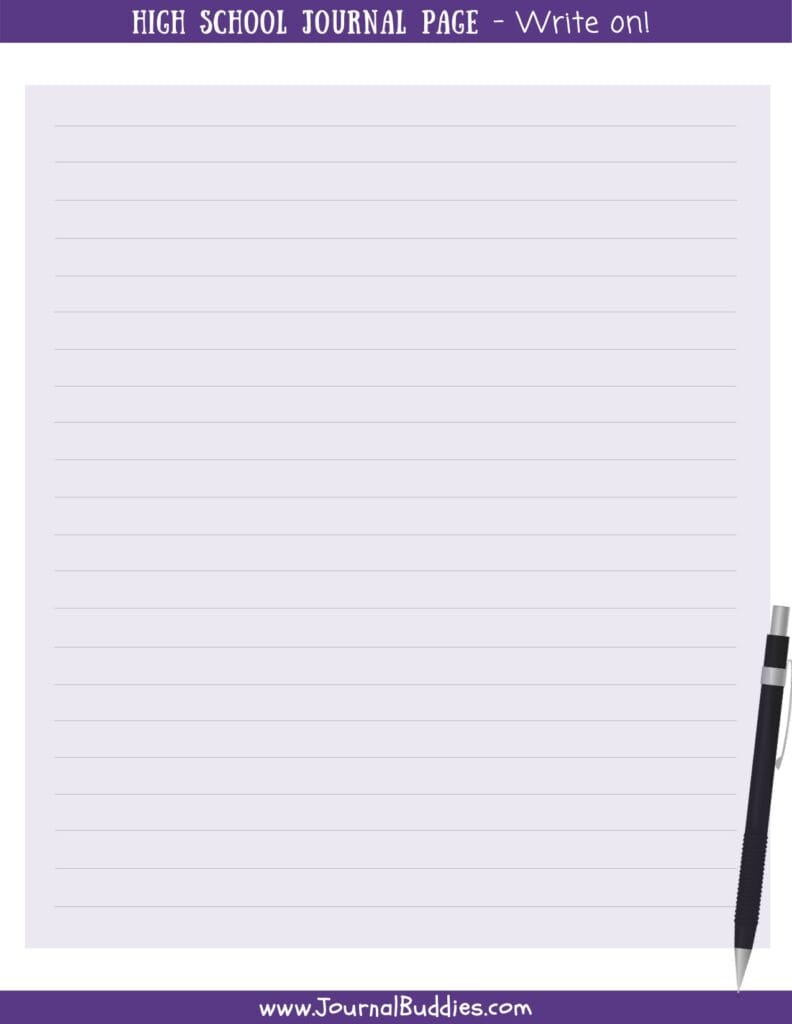 I hope your students enjoy these Creative Writing Worksheets High School PDF printables.
Now, let's explore…
More Free High School Writing Resources
Writing Prompts for High School (This is where you can find the prompts from the printable pdf and discover even more great writing information for your high school child.)
The high school years are a confusing time—because they're the first time when teens really begin to establish who they are, figure out what they believe, and find their places in the world. That's why high school teachers have such a great responsibility to help their students sort through the confusion and complexities as they work to better understand themselves. With that in mind, we've designed a unique set of 35 thought-provoking writing prompts especially for the high school classroom.
These prompts dig a little deeper than most and afford students a special opportunity to reflect on who they are and what they truly want from this life. As they write and reflect on concepts like art, regret, life's greatest mystery, and the things that make them happy, students will have the chance to get better acquainted with their own ideas and values—and with the individual traits they have to share with the world.
Use this all-new set of great writing prompts for high school students to help your class unravel and clarify their most important ideas!

31 Creative Writing Prompts for Teenagers
The power of journaling is truly universal. It can have an impact on people of all ages and from all walks of life—and there is no one who can't benefit from exploring his or her thoughts on the written page. However, this is especially true for teenagers who often find themselves caught up in jumbled mixes of thoughts and emotions and without enough outlets through which they can express them.
That's why we've developed these 31 creative writing prompts for teens that ask students to write and reflect on their own lives and experiences. As they tackle topics like their future goals, the greatest challenges they face, and the qualities that make them unique individuals, teens will benefit from the opportunity to get to know themselves in a new way—all while also improving their writing skills, their ability to analyze and explain, and their creative thinking.
Ultimately, the benefits of journaling for high school students are as multi-faceted as the students themselves!
More Creative Writing Resources for High Schoolers from Our Blog for Your Lesson Plans
Take a look at this collection of high school printable ela worksheet.
Let's Write Creatively
Creative writing sounds inherently as though it should be easy—after all, the word "creative" expresses a sense of freedom and possibility that other, more restrictive forms of writing don't have.
However, sometimes the lack of boundaries makes it even more difficult to begin writing. Kids are sometimes confused by assignments that don't have many rules, and they may struggle to begin writing creatively.
The following five tips get the creativity flowing and encourage kids to think outside the page.
1. Promote New Experiences
Encourage kids to pursue other interests besides writing. While it might seem counter-intuitive that the first creative writing tip suggests doing anything but writing, alternative experiences actually promote greater creativity once students return to their desks. Kids who struggle with writing can find inspiration by enjoying their favorite activities and trying new things.
2. Don't Worry About Perfection
Perfection is the greatest enemy of creative writers everywhere. When a person writes about things that matter deeply to him or her, it's only natural to care about the quality of the finished product.
However, people shouldn't worry about perfection during the early stages of writing.
High students who worry too much about getting a sentence exactly right may become frustrated easily and associate the negativity they feel with writing as a whole. Instead, encourage your kids to write freely at first and to get as many ideas down as possible. They can go back later and correct mistakes during the editing process.
3. Write about What You Love
Though you might be tempted to give students a particular writing assignment, sometimes it's best to sit back and let them write about whatever they love most.
Encourage your high schoolers to take a general topic and spin it in any direction that interests them. Most kids will have much more to say and will feel more comfortable writing when they are able to discuss familiar and enjoyable topics.
4. Focus on the Senses
Sensory writing is interesting writing—and focusing on the senses can also help students who are struggling to get started. Give your eighth-grade writers a setting or situation and ask them to describe what a character experiences through the lens of the five senses. What does the view look like? What noises does the character hear—shouting or the rustling of leaves? Are there any smells in the air? Can the character taste anything—flavored lip balm or perhaps a delicious apple pie? What is the character touching?
5. Set Small Goals
Small, realistic goals for assignments also help kids who are struggling with creative writing. Encourage kids to write for 10 minutes daily or to compose one or two paragraphs. With an end goal in sight, even students who dislike writing will know what they can expect and will have an easier time completing the task. As students get more comfortable with writing, you can slowly increase the length of assignments—and watch as their creativity increases at the same time.
A Few Final Thoughts (+ 15 Quick Warm Up Prompts)
Sometimes it helps to use some super simple prompts to get one's creative juices flowing. Here are a few quick and easy creative writing ideas:
My current mood
Favorite music
Favorite food
What amusement park would you love to visit (or have you visited already!) and why.
Write a haiku
Record 5 specific details you can see right now
List three novels you've read and loved
Do you enjoy creative writing exercises?
Use a metaphor to describe your current situation
Write a short paragraph in the first person, second person and then in the third person.
Have you ever used prompt pictures to get inspired to write?
What is the worst essay topic you had to write about in high school and why?
Are you a fan of english classes? Why or why not?
What writing advice would you give to young learners?
See even more writing warm up ideas.
If you enjoyed these High School Writing Worksheets and resources, please share them on Facebook, Twitter, and/or Pinterest. I appreciate it!
Until next time, keep on practicing those writing skills with your high schoolers…
Sincerely,
Journal Buddies Jill
journalbuddies.com
creator and curator