9 Journal Themes to Inspire Your Journaling— What do you think of when you think of writing in a journal? Perhaps you simply think about a blank book of pages where you record what happens each day. While that's definitely one option, so many other creative ideas exist that you can use when journaling.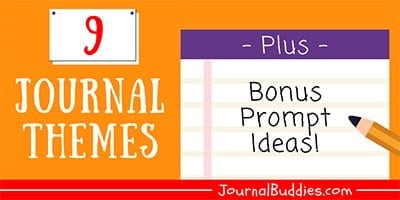 Just writing what happened in your day, every day, can get boring. Perhaps that's even why so many people give up on keeping a journal. Keeping a journal should be something exciting and fun – something you look forward to each day.
Boost your creativity and your enjoyment level when journaling by choosing journal themes. You can choose a theme that you follow for a while, and when you're ready to start a new journal, you can try another theme that appeals to you.
Journal themes add purpose, clarity, and creativity to keeping a journal. A good theme keeps you focused, and you have so many possibilities. Not sure where to get started? We've put together some excellent journaling themes. Find one you love and get started!
9 Journal Themes & Bonus Prompts for Each Idea
1. Travel Journal
Travel journals make perfect short-term journals for writing about a trip you're taking. Start writing in it before your trip, use it to plan out your trip, and then keep track of all the memories, stories, and adventures you have along the way. You'll not only remember more about your journey in the future, but you'll get the chance to reflect on this special part of your life.
Travel Journal Prompts:
Five places I want to go on my trip are…?
Write about what you imagine your destination will be like.
What surprised you the most on your trip?
2. Health Journal
Keeping a health journal offers an excellent way to get a better picture of your health, how your choices are affecting the way that you feel while boosting your overall well-being. Some of the benefits of keeping a health journal include the ability to uncover your lifestyle patterns, discover foods that may aggravate your body, staying accountable to your health goals, and finding areas you need to choose.
What to record in your health journal:
Foods you eat daily
Daily water intake
Sleep times
Vitamins
Mood
Fatigue or pain
Exercise
Reactions or illnesses
3. Gratitude Journal
Gratitude journaling is one of those journal themes that offers a great way to boost your mood. With a gratitude journal, you'll keep track of the good things in your life. Even when life feels difficult, you can find things to be grateful for, and as you continue to journal about the good things in life, it changes the way you think and strengthens you even when you do go through difficult days. Many people notice that gratitude journaling helps them feel calmer, lowers stress, helps them find focus, and even raises self-awareness.
Gratitude Journaling Prompts:
Write about someone in your life you're grateful for and why you feel that way.
Write about the abilities or skills you're thankful to have.
What things that you take for granted each day can you be more grateful for?
4. Watercolor Journal
If you love watercolors, a watercolor journal may be a fun, creative journaling choice for you. While you can purchase pre-made watercolor journals, it's also possible to make them yourself. Instead of focusing on words, you'll be focusing on your beautiful watercolor creations, although you can always add words to your paintings, too. You can gather inspiration throughout your day, whether it's something that happened in your day or something you saw on a walk or run. Even painting basic shapes in abstract forms while playing with colors offers therapeutic benefits. Watercolor journaling provides a creative way to relax your mind and let go of stress daily while doing something you enjoy.
5. Family Journal
Creating a family journal offers a fun way to keep track of events that happen in your family, creating an heirloom that will be cherished for years. You can keep it simple and record family facts, memories, and anecdotes, or you can get creative by adding photos, getting your kids involved in the writing, and adding artwork to the mix.
Family Journal Prompts:
Take time to introduce your family. Write down names, dates and cities of birth, the place you live, hobbies, careers, and other pertinent details.
Write down some of the encouraging, positive adjectives that describe each of your children.
Write about the dreams and hopes you have for your family.
Add a family photo to your journal and write about what makes your family unique.
6. Freestyle Journal
A freestyle journal usually involves sitting down each day and writing for a specific amount of time. You just write. It's not important what you write – the goal is to just write down everything without thinking or judging what you write. This gives you the freedom to avoid editing your thoughts and words, letting emotions and thoughts surface. So many of us edit what we write and tamp down our feelings. Freestyle journaling gives you a safe place where everything can come out on the page uncensored, letting you let go of those emotions and thoughts you've been repressing and enabling you to accept yourself the way you are without judgment.
7. Money Journal
A money journal allows you to explore money in your life, including your early and current experiences and relationships with money. It's a way that you can explore this relationship to improve your money habits and strengthen your personal finances. As you reflect on money, its impact in your life, and how you interact with money, you'll be able to identify areas of your personal finance life that may require some additional attention.
Describe your first experiences with money as a child. Did that experience give you negative or positive feelings towards money?
How did your parents interact with money when you were a child?
Write about how creating a budget plan could help you improve your finances.
8. Personal Growth Journal
Growing as a human being isn't always easy, and success doesn't just happen overnight in our lives. Keeping a personal growth journal helps you move forward in your life, improving yourself, learning lessons from what happens in your daily life, and discovering who you are as a person. You'll build more confidence, change negative mindsets, and work towards creating a life you love.
Personal Growth Journal Prompts:
What things do I need to let go of in my life?
What are three ways that I can get out of my comfort zone?
Where do I see myself in five years or ten years?
What things can I do when I'm feeling down?
9. Prayer Journal
A prayer journal is another of the many exciting journal themes to consider, and it offers you a way to keep track of your prayers, write about specific goals, burdens, or dreams you're praying about, and keep track of answers to those prayers. You can be creative, adding poetry, specific prayers, Scripture verses, or even song lyrics to your journal. Some people may even want to write out their prayers daily and then pray them aloud, and for many people, writing out prayers offers a better way to focus their thoughts.
Prayer Journal Prompts:
Write a prayer that gives thanks for all the blessings you have in your life.
Write down a prayer for other people in your life.
Write a prayer about the things that are bothering you and ask for the help that you need.
Journaling Benefits + 6 Journal Types
What type of journal you decide to keep can depend a lot on how you learn or work best and what your personal goals are.
For example, if you want to become more organized, you may want to start a bullet journal. If, however, you want to learn to live more intentionally, you may choose to keep a self-reflection journal.
Below, you'll find 6 unique journal types along with prompts to help you get started. Check them out to see if any of these journal types resonate with you.

Image Credit: 10 Ways Journaling Benefits Students,
University of St. Augustine for Health Sciences
Until next time, write on…
If you enjoyed these Journal Themes,
please share them on Facebook, Twitter, and/or Pinterest.
I appreciate it!
Sincerely,
Jill
journalbuddies.com
creator and curator
Journal Themes & Prompt Ideas